There's finally a great Dropbox client for Windows Phone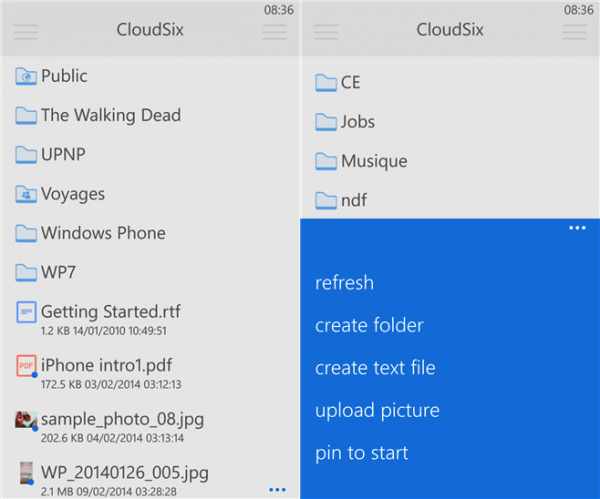 Windows Phone may be seeing new, popular titles launched in Store, like Facebook Messenger, Instagram and Vine, but the tiled smartphone operating system continues to lack some notable apps. The reason is major developers are still waiting for the platform to gain more traction before committing.
YouTube is absent, but there are a couple of good clients available that nearly make up for it. But, when it comes to Dropbox a decent selection is virtually non-existent. Part of the reason is the cloud storage service is focusing its resources in mobile on Android and iOS, like many other major companies, and (probably the majority of) Windows Phone users are in OneDrive's backyard already, whether they like it or not. But, if they choose to embrace Dropbox now they can turn to CloudSix for Dropbox.
CloudSix for Dropbox is the work of prolific Windows Phone developer Rudy Huyn, the man responsible for other third-party clients such as 6snap (Snapchat), 6tag (Instagram) and 6sec (Vine) that turned out to be hugely popular on the platform.
The app was just released in Store, so it is too soon to comment on its stability. But, during my hands-on CloudSix for Dropbox behaved admirably for what is the first publicly released version. So what does it allow you to do?
While logging in the first time you will notice CloudSix for Dropbox takes you to a web page which lets you register the app to your Dropbox account and, if you have the option enabled, use two-factor authentication for the process.
CloudSix for Dropbox also supports multiple user accounts, and the option to protect the app with a PIN. The latter feature is maybe useful to those who wish to keep others from prying.
Needless to say, the app can access any file that is stored on Dropbox's servers, download it and allow you to view it on your Windows Phone, if there is an app installed that can handle the format of the file. CloudSix for Dropbox is fast at this.
My favorite feature has to be the automatic camera upload, which hooks into Windows Phone's photos+camera control panel (it is found in Settings -> applications) to give you the option to backup your photos and videos to Dropbox, and bypass OneDrive. You can choose which folder will be used in the cloud for those uploads (by default, it is "/Windows Phone/Camera Roll/"). The feature only works while the smartphone is connected to a Wi-Fi network and is charging. I wish it would work on cellular networks as well, but hopefully Huyn will add the option in the future.
From the app users can delete, favorite, rename and share files, as well as receive a link to the stored content for sharing purposes (Huyn sees it as a good alternative to using attachments, which is useful for large files). Favorited files can be accessed offline, which minimizes the cellular data traffic (it comes in handy for listening to music, which is what I would use the feature for). But, you cannot move files which means you'll have to rely on another device for it.
Users also cannot affect the state of folders on Dropbox, which means no option to delete or rename them. Again, you'll have to rely on another device for this, for the time being at least.
For what is an initial public release, CloudSix for Dropbox is great. There may some things missing and the dependency on installed apps to view stored content, but I quite like it and recommend it to Dropbox users on Windows Phone. Huyn has a respectable track record, which means the man will not give up on the app and will continue to improve it with each iteration. Also, Huyn just announced CloudSix for Dropbox will be joined by clients for Box, Google Drive, Mega and, surprisingly, OneDrive.
CloudSix for Dropbox is available in Windows Phone Store. The app is ad-supported. Ads can be removed with a $1.29 in-app purchase.