Samsung mass-producing 20 nanometer 4Gb DDR3 memory for mobile devices and PCs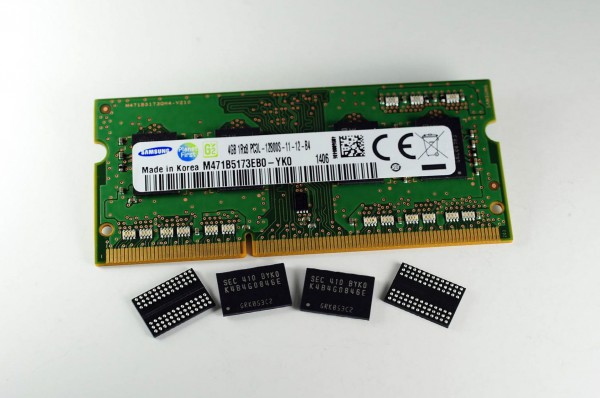 When it comes to computers, there are two routes to take -- buy a pre-built model from a manufacturer like Dell or build your own. While you can save money by going the pre-built route, you don't get to pick the specific components. Sure, you can pick the size of the drives or the amount of memory, but the brands and quality can be a question mark.
One of the most important components of any system build, is the RAM. It can be tempting to buy a cheap generic brand, but that is never a good idea. After all, system stability can take a major hit from cheap memory. Some of the best memory uses Samsung modules. Today, that company announces it has achieved mass-production of 20nm 4Gb DDR3 memory modules. This means improvements to smartphones, tablets and PCs.
"Samsung's modified double patterning technology marks a new milestone, by enabling 20nm DDR3 production using current photolithography equipment and establishing the core technology for the next generation of 10nm-class DRAM production. With the new 20nm DDR3 DRAM applying these technologies, Samsung also has improved manufacturing productivity, which is over 30 percent higher than that of the preceding 25 nanometer DDR3, and more than twice that of 30nm-class DDR3", says Samsung.
The company further explains, "in addition, the new 20nm 4Gb DDR3- based modules can save up to 25 percent of the energy consumed by equivalent modules fabricated using the previous 25 nanometer process technology. This improvement provides the basis for delivering the industry's most advanced green IT solutions to global companies".
Hopefully these modules will find their way into mobile devices and PCs soon as the benefits are much needed. The energy savings alone are a godsend, as the battery performance of smartphones, tablets and laptops still don't meet the needs of many. An entire industry of portable external batteries have been bred from this deficiency.
Are you excited for improved memory? Tell me in the comments.