Nikon beefs up its mirrorless range with new 1 V3 camera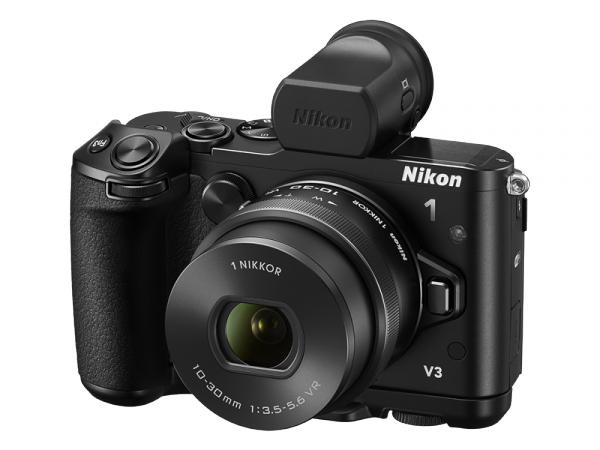 Smartphones may be the most popular devices for taking pictures nowadays, but there is still a place for dedicated cameras, which continue to offer superior image quality. For this reason, I, like many other photography enthusiasts, have a DSLR. It may not be small, but it is a pleasure to shoot photos with. But, mirrorless cameras are slowly catching up and may soon prove to be as good as or better than their bigger siblings, with their more pocketable design playing a key part in this.
Nikon's new 1 V3 mirrorless camera, that the Japanese manufacturer unveiled today, is one of the most attractive offerings in its 1 range. Like other, similar bodies, it is quite light, coming in at just 324 grams. And it brings impressive specifications to the table, like a 171 focus point system and 20 FPS shooting rate.
Unlike more expensive Nikon DSLRs, the 1 V3 comes with Wi-Fi connectivity out-of-the-box. The former require an optional accessory to achieve similar results, which is not convenient to use, as it is not a built-in feature, or lug around.
Here are the big specs: 18.4 MP CMOS 13.2 x 8.8 mm sensor with no low-pass filter, Expeed 4A processor, 160 to 12800 ISO range, 1080p video recording at 60 FPS (30 FPS is available as well), 720p video recording at 120 FPS, microSD card slot (supports microSDHD microSDXC cards) and a tilting touchscreen panel on the back.
To give you an idea of how fast 20 FPS is for a dedicated camera, Nikon's also new D4s, which is a $6,449.95 professional DSLR, only does 11 FPS, or about half as much. The 1 V3 achieves that high rate with the electronic shutter; using the mechanical one the frame rate drops to 6 FPS, which is still quite fast. As a result, it touts the "world's shortest shooting time lag", for a digital camera with interchangeable lenses,
The 1 V3, however, costs $1,199.95 with the optically-stabilized 1 NIKKOR VR 10-30mm f/3.5-5.6 kit lens (in full-frame terms, it is equivalent to the view angle of a 27-81 lens, which would be significantly bigger). That is not cheap, far from it, but it is roughly on par with what other similar mirrorless cameras cost. The lens is also touted to be "the world's lightest interchangeable lens equipped with a power-drive zoom function, and also the world's first interchangeable lens equipped with power-drive zoom to utilize an electrically controlled lens cover". Of course, there are a couple of asterisks there.
In the kit package, among other accessories, Nikon also includes an electronic viewfinder (that can be attached on top of the camera, taking advantage of the shoe, but eliminates the possibility of using a large flash at the same time) with 2.359 million pixels and a grip, which allows for a more comfortable shooting experience and holding of the camera.