Give ClamWin simple real-time protection with Clam Sentinel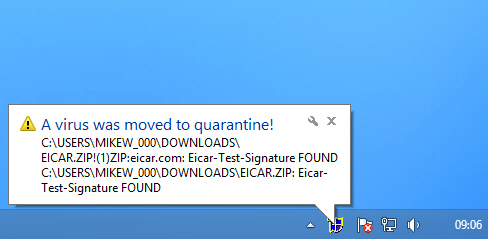 ClamWin is an easy-to-use open source antivirus tool which runs on every version of Windows from 98 upwards.
The program doesn't offer any real-time protection, unfortunately, which is a significant weakness. But you can add this yourself, to a degree, just by installing Clam Sentinel.
The idea is a simple one. Clam Sentinel is really just a system monitor that watches the drives you specify (local, removable or network), looking for new or modified files. And whenever something turns up, it launches ClamWin to take a closer look. Easy.
All these extra scans could prove a drain on your system resources, but there are various configuration options to keep it under control. You can choose the drives, paths and file extensions to scan, as well as setting the maximum number of simultaneous scans, and it all helps in tuning your PC for the best results.
None of this is any substitute for the built-in real-time protection systems of other antivirus tools, of course. It can't detect or block malicious links. It can't scan downloads as they're happening (only when they're finished). There's no behaviour monitoring, and the system is far easier to bypass or attack than most of the competition.
Still, the program's developer does point out that Clam Sentinel great for older computers -- in fact, it runs on anything from Windows 98 upwards -- and if you like (or must) use ClamWin, then this is an easy way to get a little extra protection.