Firefox 29 Beta debuts Australis UI, improved sync function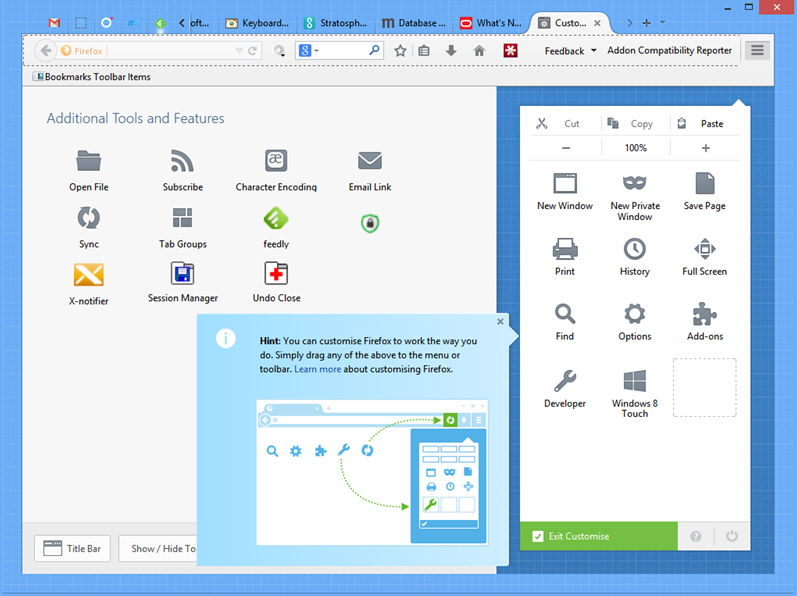 After another underwhelming update in the form of the disappointing Firefox 28.0 FINAL, Mozilla looks likely to have something to shout about with the release of Firefox 29.0 Beta 1.
Although not due to be officially unveiled until tomorrow, we've installed the latest version and checked it out to see what new features could be making their debut in the next stable build, and the early signs suggest Firefox 29 could be a landmark release.
By far the biggest splash in Firefox 29 Beta is the new Australis user interface, which has moved swiftly from the Aurora channel to the Beta build. Once installed, users will immediately notice the difference, with the redesign sporting curved tabs and a slimmed down tab bar.
Users will also notice that background tabs are now coloured the same as the rest of the window to reduce their visibility, only gaining slight visual affordance when highlighted with the mouse cursor.
The menu system has also been overhauled, with the Windows Firefox button -- a staple of the browser since version 4.0 -- being retired in favor of a cross-platform menu that's superficially similar in appearance to rival browser Chrome, consisting of a ≡ button on the far right of the main toolbar.
Clicking this reveals a key difference however -- instead of a drop-down menu, users see a group of customizable buttons providing key access to features. The menu can also be used to house add-ons, allowing users to clean them up from the main toolbar.
The toolbar also gains two new buttons for quickly adding and managing bookmark items, while a new first-run dialog has been implemented to explain the major changes to the user interface.
Also migrated across to the Beta is the new accounts-based Firefox Sync tool, which is far easier to use and manage than the current system. A new feature also promises to automatically correct common scheme typos (such as http, https and file protocols) in the Address bar.
Despite officially dropping development on Firefox for Windows 8 Touch, the feature remains enabled in this latest beta, giving fans of the new Modern UI interface a chance to vote with their feet and potentially get Mozilla to reverse its decision.
Also held back from Firefox 28 Beta for further testing are support for WebVTT and the Gamepad API, along with a security measure that prevents third-party websites from getting a full list of installed plugins.
Firefox 29.0 Beta 1 is available now as a free, open-source download for Windows, Mac and Linux. Note that this will overwrite any existing Firefox installation, including the latest stable build -- Firefox 28.0 FINAL -- if it's installed.