Malware in pirated software costs billions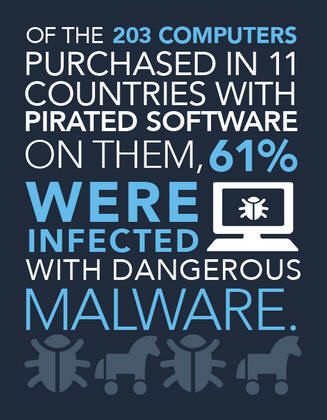 Enterprises worldwide are expected to spend $500 billion in 2014 to deal with issues caused by malware in pirated software. Consumers are set to spend $25 billion and waste 1.2 billion hours on security threats and fixes.
These are among the conclusions of a study carried out by IDC and the National University of Singapore, released today by Microsoft's Digital Crimes Unit as part of its annual Play It Safe campaign.
Forensic analysis carried out on 203 new PCs that came with pirated software on them found that 61 percent were pre-infected with malware, including trojans, worms, viruses, hacktools, rootkits and adware. These machines bought through resellers and PC shops in 11 markets, included more than 100 separate threats.
Writing on the company's blog David Finn, Associate General Counsel & Executive Director of Microsoft Cybercrime Center says, "While these statistics are frightening, they shouldn't be a surprise. After all, cybercriminals aim to profit from any security lapse they can find. And through pirated software, they've found another way to introduce malware into computer networks -- breaking in so they can grab whatever they want: your identity, your passwords and your money."
When asked to rate their biggest security-related fears 60 percent of consumers put loss of data or personal information at the top followed by unauthorized internet transactions for 51 percent and hijacking of email, social networking and bank accounts for 50 percent. Yet despite these fears 43 percent admitted not installing security updates, making them vulnerable to attack.
Enterprises are especially hard hit by malware in pirated software. In 2014 it's estimated that businesses will spend $127 billion dealing with security issues and $364 billion dealing with data breaches. Almost two-thirds of these losses, around $315 billion, will be the result of organized crime -- malware launched by financially motivated criminals.
Finn concludes, "The results of this study demonstrate, once again, how vital it is that individuals, small businesses, enterprises and government institutions buy new computers from reputable sources and demand genuine software. Because if you don't, you never know what will come along for the ride".
The full results of the study are available as a PDF from the Microsoft website.