Linking Outlook and Yahoo Mail to Evernote and Dropbox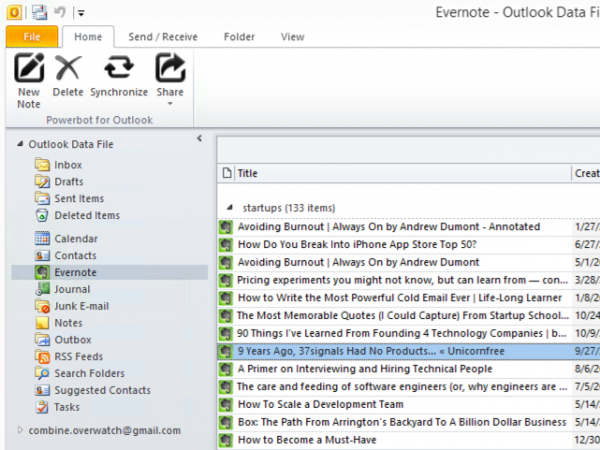 For many people webmail has become their main method of handling email, whilst corporates cling to a client model. Integrating with cloud services can be a chore in either case.
Powerbot is a clever browser extension that connects Gmail and Google Calendar to Evernote and Dropbox making it easy to share data between them. It's now extended its functionality to Yahoo Mail and the Outlook client.
Powerbot buttons are added to the mail interface allowing users to, for example, send email threads to Evernote, import notes into outgoing email and so on. All of your Evernote and Dropbox notes and files are available in one interface for sending and receiving emails.
The addition of an Outlook version is significant thanks to its popularity in the enterprise, and Powerbot's Outlook version works as a download rather than a browser extension. Powerbot gives users buttons for adding mail messages, threads, and attachments to or from Evernote notebooks or Dropbox folders without leaving the email.
The Outlook version is currently available free whilst it's in beta. The Yahoo Mail and Gmail extensions offer a 30-day free trial and are then priced at $2 per month or $15 per year.
"Despite Gmail's huge popularity, we still see that old habits die hard (especially in larger organizations), where Microsoft Outlook is still the standard," says Dmitry Gorshkov, Head of Product for Powerbot. "By shipping Powerbot for Outlook, we hope to both bring millions of people a more enjoyable, integrated experience and help Evernote get even more adoption within the enterprise market. We are big believers in Evernote and think this is a natural extension of the Powerbot technology".
You can find out more and download a trial on the Powerbot website.