SmartMio Q&A: Electronic muscle stimulation in the wearables era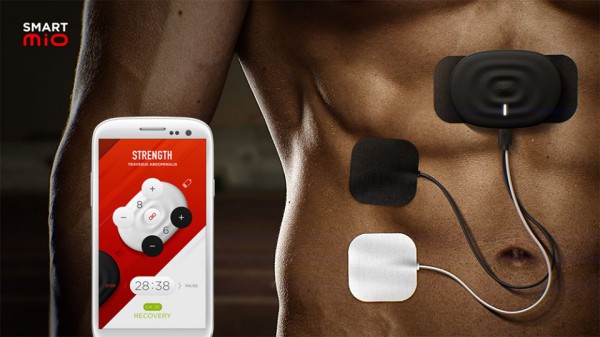 Wearables make up for an exciting market which offers huge opportunities for innovation and turning otherwise bland devices into modern gadgets. We have smartwatches which augment smartphones, activity trackers which monitor our sleeping habits and physical activity, and glasses which let us take photos and receive navigation directions at the blink of an eye.
Part of the wearable wave are also electronic muscle stimulators, like SmartMio. It works like a traditional EMS, but instead of controlling it manually through physical toggles and buttons, users have a much more powerful mobile app at their disposal. I chatted with the CEO of the company behind SmartMio, Alex Pisarev, to learn more about its wearable strategy and future plans, how the device works and what benefits users have.
BN: What gave you the idea of SmartMio?
SM: My father (currently he is CSO/Head of R&D at SmartMio) was designing customized medical devices for more than 30 years. He came up with an idea of a ultra small EMS device around 2.5 years ago, when he was trying to miniaturize his previous desktop TENS/EMS device.
Originally SmartMio was wired and used USB connection and PC-based software, but later I proposed him to integrate a Bluetooth module and create a truly wearable gadget. He added the Bluetooth module, I have put together a demo Android app and this is how the first SmartMio prototype was born.
BN: How does Indiegogo fit into your strategy?
SM: We use Indiegogo for market validation purposes mainly, as we are closing a Seed funding deal now and are not really interested in money. This is why we are offering SmartMio almost at its actual price, without any significant margin for us and for some perks -- even lower (when taking user acquisition costs into account).
People's attitude to EMS application in sports has been a bit skeptical and is spoilt by numerous "get a six-pack in a month" type of ads. We want to change it and this is why we are using the Indiegogo platform to check whether people are still interested in getting a right scientifically-validated product and use it to boost their results. This is why Indiegogo fits our goals 100 percent.
BN: Who is this for?
Active athletes of any level. Those who train regularly and want to improve their sports performance further, but can't afford or simply can't dramatically increase the number of weekly workouts in order to stay in line with pros. Most likely competing amateurs or semi-pros who work full time, have to devote time to their families, their non-sport hobbies, etc.
BN: What sort of results are you seeing?
When combined with regular physical training and plyometrics, SmartMio can help increase muscle strength and endurance by more than 20 percent in just 6-8 weeks time.
Here are some of the scientifically measured results from various sports studies. We believe that similar or even better results can be achieved with SmartMio.
BN: Are there medical benefits to using it? Can people use SmartMio to recover after injuries?
SM: We position SmartMio for health purposes only and plan to introduce a second range of devices based on the SmartMio platform for pain management, rehab and recovery purposes.
However, SmartMio can still be used on healthy muscles in order to support the muscle tone during injury recovery (when a person can't do his regular physical training).
BN: Can it be used successfully without working out? (Is this a lazy person's way of getting fitter?)
SM: SmartMio can be used to maintain the current level of muscle fitness in situations when a person can't train due to long travel, injury or any other reasons, however, it's unlikely that SmartMio will be able to provide any significant benefits on its own. It has being scientifically proven, that EMS only provides statistically significant results only when integrated into an existing training regime and used in complementary way. This makes sense, as performance in sports is not only about one muscle group strength, but more about co-ordination between the muscle groups and various kinds of muscular resistance (e.g. body weight, etc.).
BN: How does the companion app augment SmartMio?
SM: SmartMio is just a useless piece of hardware without its app. The app is used to initiate EMS workouts, control the intensity and the course of the workout, advises the user on the right set up of electrode pads on the body, provide various relevant safety and device usage instructions before and during the workout, and tracks the history of the workouts.
But what's more important, the app allows the user to integrate EMS training into his existing training plan and plans proper EMS workout sessions for the right muscle groups of the user, depending on the user's objectives, sports discipline and current schedule.
So the App is not only the most interactive and user-friendly EMS interface in the world, but also your training coach. At the same time, our app allows us to stay tightly connected to our end users and better understand how they actually use SmartMio programs.
BN: How does it differ from similar pre-wearables products?
SM: It brings a completely new experience altogether. In fact, SmartMio redefines the conventional EMS training approach as it brings not only a mobile "on-the-go" experience, but the most interactive and user-friendly EMS experience out there.
In addition, having hardware, firmware and mobile software working as one well-oiled mechanism allowed us to introduce a number of advanced safety and comfort features to the user experience.
BN: How do you plan to make it better?
SM: We keep adding more sport disciplines and training objectives to our Workout Planner, new programs and, at some stage, consider integration with some popular fitness apps. Also, Google Wear is currently on our radar and we're planning to create a SmartMio app for Moto 360 in the near future.
And, of course, we're very concerned with what our end users recommend and advise, and are planning to do a lot of work towards making their wishes a reality.
BN: What other opportunities do you see for wearable in this field?
SM: As mentioned above, we are also considering to extend our range with wearable therapeutic devices which will help people treat their chronic pain and sport injuries (e.g. lower back, neck, knee, etc.) while staying mobile. Another case is to develop a device similar to SmartMio to be used during long haul air flights for more efficient blood flow circulation.  Also, similar devices can be used in gaming for forced feedback type of applications.