Microsoft convinces 12-year old girl to abandon dreams of iPad Mini for Surface 2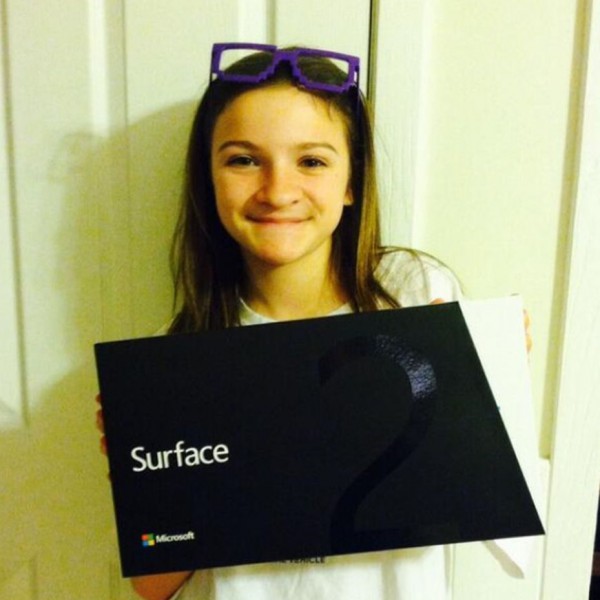 I have no idea what 12-year old kids are interested in -- I am guessing Justin Bieber and Instagram; lord only knows. However, as a tech-guy, I always have my eye on what smartphones and tablets people are using in public. From my observations, iPhones and iPads still reign supreme for tweens. And so, it is not surprising that 12 year old Victoria asked her dad for an iPad Mini.
While many kids are whiny brats nowadays, she took a more responsible approach and created a presentation as to why buying it is a good idea. Her father, rather than simply giving in and buying it, instead tweeted Microsoft to give it a chance for rebuttal. Microsoft responded to her presentation in epic fashion.
Victoria's presentation included a poster-board with iPad Mini facts. It highlighted that it had access to many apps, including ones for education. I was a kid once, and recall using "education" as a guise to get everything from my first computer to a Super Nintendo (Mario Paint is like having an art teacher!). However, I am sure she is sincere as she looks like a good kid.
Microsoft's rebuttal also included a poster-board presentation, highlighting the benefits of the Surface 2. The poster mentions portability, a great camera and educational benefits. Laughably, it also highlights "great apps". While there are many good apps available in the Microsoft Store, I wouldn't call any of them truly great. Of course, "great" is subjective, so I don't fault the statement.
While Microsoft could have stopped there, it didn't. Instead, the company invited her to a local brick and mortar store to try it out. As you can see in the below video, they welcomed her with applause and a Surface donning her nickname, "Vic". She seemed overwhelmed by the experience -- a bit nervous and camera shy.
Once inside the store, the employees showed her the tablet and asked for her favorite color. Her response of "purple" was met with (surprise, surprise), confirmation that a keyboard cover came in that color. The happy-faced male employee also explained that the integrated-kickstand negates the need for a cover with one. He also highlighted the fact that rather than use iWork (Numbers, Pages, etc.), she can use Office.
Ultimately, she chooses the Surface 2, as well as some accessories. This seems like a major score for Microsoft right? A feel good story? Not so fast -- the devil is in the details. The video shows no money being exchanged, so it is not clear if it was donated to Victoria or if she bought it. BetaNews reached out to a Microsoft representative, who replied by saying "they have nothing to share beyond the blog". I then tweeted her dad, but he failed to reply.
Whether she bought it or not, the Surface 2 is a great tablet. However, I am a bit concerned about the app situation. While the tween should be satisfied that Facebook and Twitter are represented, there are many that aren't, such as Candy Crush Saga. She may be disappointed when she finds out that she doesn't have access to all the apps her iPad-owning friends do.
What do you think, did she make a good choice? Tell me in the comments.