Rapoo T120P Touch Mouse brings better functionality to Windows 8.x [Review]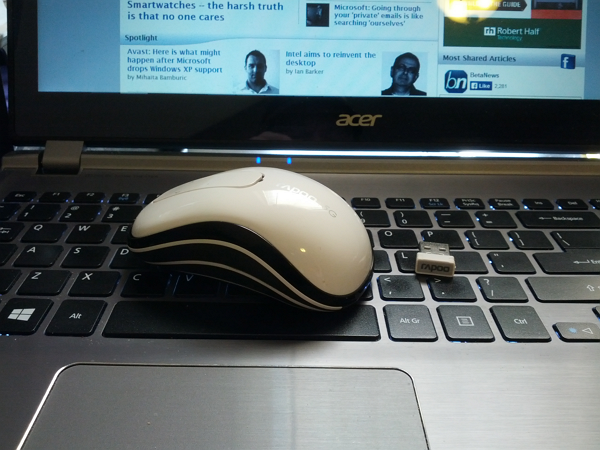 When it comes to technology, many things are personal. Some prefer an iPad, while others opt for an Android or Windows tablet. The best thing is choice, and there is no shortage of that on the market -- in fact, the amount of new products amounts to sensory overload.
Oddly enough, few things are more personal than a mouse. That seems an odd item, but it rings true -- there are ones that are travel-size, while others are designed for the PC gamer and offer a dizzying amount of buttons. There is the standard model, the wireless USB and the Bluetooth. The options are almost overwhelming, though the average computer user likely just opts for a standard size, wired USB model -- probably the one that came with the computer.
I have been using the Rapoo T120P Touch Mouse for the past week, getting used to it and learning the different features included, not all of which will readily jump out at you.
Introducing the Rapoo T120P Touch Mouse
Rapoo's new mouse comes with a number of features. First, the company boasts a 5G wireless connection to avoid interference from other objects surrounding you, and is designed to avoid the more common 2.4G spectrum. It also features touch scroll, as opposed to be the more common wheel that we've all become used to. The touch scroll works both up and down and side to side.
The mouse also comes in five different colors -- black, white, red, green and yellow. The last two are a bit bright -- neon would be a good word. There is also a very small USB receiver, though really, the size is about standard for today's wireless mice. In addition there is haptic feedback for certain uses.
Setup and Software
You will need a pair of AA batteries to get started -- the bottom slides off to reveal the compartment. This battery area also has a small slot where you will find the USB key inserted, and a spot to place it back in for safe keeping during travel. There is also a simple on-off switch on the bottom that allows for saving battery life when not in use.
While the mouse will work by simply plugging it in, there is software that can be installed to allow for pairing. A word of warning, the file comes as a RAR, so you will need a program such as Rarzilla to unpack it. You will also need to restart your computer after installing.
Although the mouse works when first plugged in, the software requires re-pairing when first opened. You'll need to be quick, and you will also need to either use another mouse or the touchpad on your laptop. Pull the batteries then click the pair button, wait a couple of seconds for instructions to appear, then hurry to push the batteries back in and hold down the left, right and center buttons simultaneously for about the three seconds. It took several tries to get it done fast enough to work. And, yes, the English isn't perfect in the below screenshot, but that's fine -- you get the point.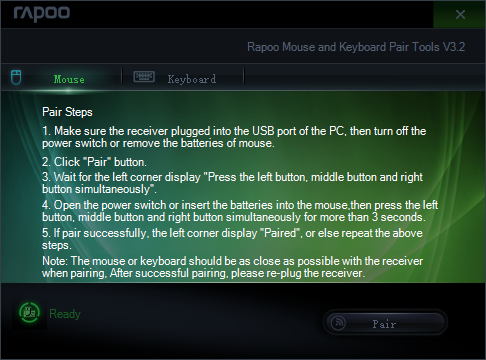 Use
The Rapoo T120P Touch Mouse is an average-sized mouse, and it's mostly traditional in look as well, though with a strip that graces the middle where a wheel would normally be. Left and right buttons work as you would expect, but the center is a bit different. Slowly moving a finger up or down will scroll pages, while a quick swipe delivers a rapid, long movement. Either of these movements results in a vibration beneath the finger -- what I earlier described as a sort of haptic feedback. Side to side movement does not cause this. Clicking the center button turns on scrolling without swiping -- simply move the pointer up, down and sideways.
While you likely will not notice it, the mouse also does not have the traditional optical red-light on the bottom. The sensor looks and functions the same, but doesn't use a light.
Conclusion
There is some good and bad here. I'll begin with the latter and get that out of the way, and really there is only one issue I had. The T120P claims customization software, but the download is only a pairing tool, and that isn't really necessary, given that it works out of the box, just like any other USB peripherals. I found no benefit from installing it.
On the good side, the peripheral works quite well, the center touch-scroll is a pleasure to use, and the vibration isn't over-the-top, but simply provides a bit of feedback about what you are doing. Left and right buttons have a tiny, but audible, mechanical click that also lets you know what is going on.
After a week of use, I've rapidly become accustomed to it, and the size and shape are perfect for an average size hand. The price, which ranges from $40-50 on Amazon (depending on the color), is also reasonable for a good mouse with these features. While it comes packaged as being for Windows 8.x, I am sure it will function just as well with other versions of the OS.