Malwarebytes Anti-Malware 2.0: new look, new engine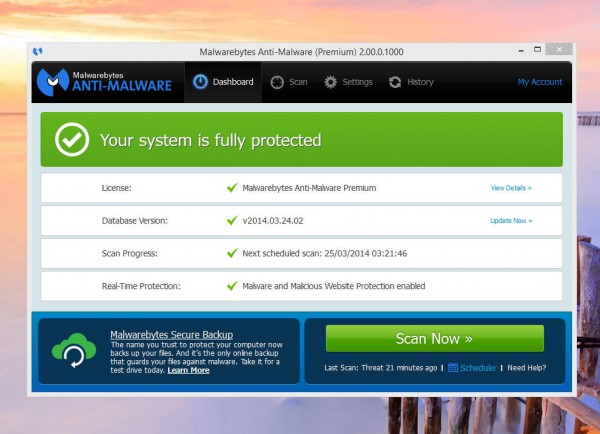 Malwarebytes has announced the release of Malwarebytes Anti-Malware 2.0, its flagship security tool.
A new heuristics engine detects malware based on its behavior, rather than signatures. The integration of Malwarebytes Anti-Rootkit further enhances its protection, and Anti-Malware's interface has been completely redesigned for a simpler, more modern look.
Malwarebytes Anti-Malware Premium (the new name for Pro) has an extended Malicious Website Protection system, offering better performance and finer control of its actions. There's extra protection from "potentially unwanted programs", while Malwarebytes Chameleon integration helps the program protect itself from attack.
And if you haven't purchased a new edition of Windows for a while, then there's good news: Malwarebytes Anti-Malware 2.0 still supports XP.
The one potential issue: Malwarebytes Anti-Malware 2.0 also sees the Premium edition move to a subscription model, currently $24.95 per year.
This may not be a problem for everyone. The free version is still available; if you've purchased a lifetime license for 1.x, then that remains valid; and new licenses will cover three PCs, rather than one.
But if you're still not happy, we may be able to help. We're offering a lifetime single-PC MBAM Premium license for just $18.95, a saving of 25 percent on the regular price -- and once you've bought the program, you never have to pay again.