Yahoo Screen launches on Roku, brings comedy clips to the set-top box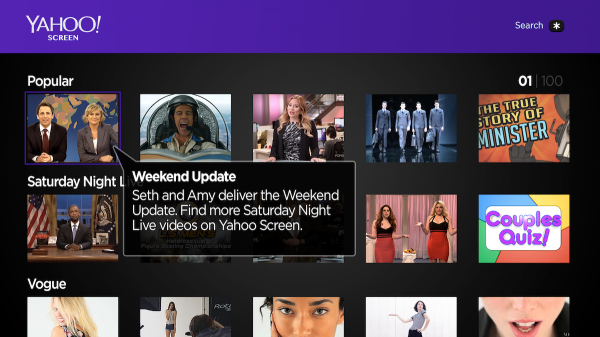 Roku seems to be on a recent roll of sorts, adding many new options, or channels, to its popular set-top box. But, this is an increasingly tough market with competition from Apple and Google, as well as smaller contenders like WD. So getting more deals is in the best interest of the company, but also benefits the customers. Now Roku announces Yahoo Screen.
What is Yahoo Screen? It's a video service that provides clips from top US comedy shows. You'll find the best moments from such top-rated titles as Saturday Night Live, The Daily Show, South Park and The Colbert Report.
"Yahoo Screen has exclusive streaming rights to all SNL archived clips, as well as current season skits, including all the hilarious digital shorts", says Roku's Ziba Kaboli-Gerbrands.
Yahoo's Robby Stein chimes in "The Yahoo Screen app brings you great videos whether you're on the go or on the couch. Today we're thrilled to bring Yahoo Screen into your home with Roku".
Exact availability wasn't stated in announcements from either company, however Yahoo confirmed to BetaNews that this is an immediate release. "I can confirm Yahoo Screen is now available on Roku", a company representative tells us.