Spanning announces cloud-to-cloud backup for Salesforce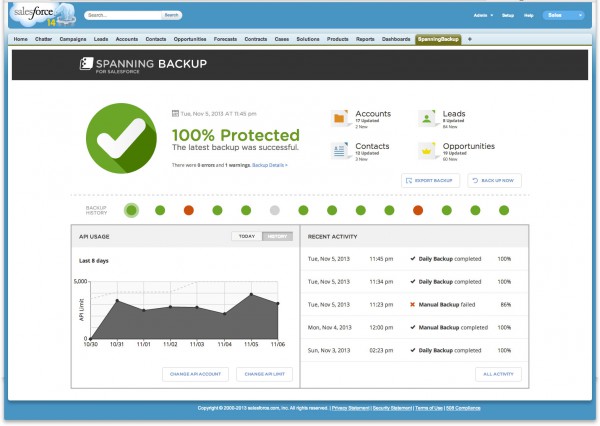 If something is already stored in the cloud you might wonder why you'd need to make an additional backup. Extra security is one reason, or the need to make backups more frequently.
Salesforce.com's backups take a daily snapshot of customer data but don't provide for rapid and cost effective recovery. It is possible to export all your data each week but this is a manual process and prone to errors.
For these reasons cloud backup specialist Spanning is launching its Spanning Backup for Salesforce. The Spanning backup ensures that changes to data are captured frequently, minimizing the chance for error, as well as significantly reducing the costs and complexity of backup.
This is the first in-app backup product delivered entirely through the Salesforce interface, so it's easy to monitor backups and recover lost data. Available through the Salesforce AppExchange the product offers a securer cloud-to-cloud backup and integrates with Chatter to alert admins to its activity.
"Salesforce administrators, who are often responsible for backup and recovery, tend to work solely in Salesforce and prefer to manage, monitor and use integrated applications that leverage the capabilities and security provided by Salesforce.com," says Jeff Erramouspe, CEO of Spanning Cloud Apps. "We've received great feedback from our beta customers, who have praised our fully integrated user experience. Salesforce users expect transparency in knowing exactly what is and is not being backed up and we make it easy for them to monitor this both for peace of mind and compliance".
Key features of Spanning Backup for Salesforce include automated, secure backups, detailed reporting of status, monitoring and control of API calls and Chatter feeds for status and activity monitoring. It also offers point-in-time recovery with the ability to find any previous version and recover all items or specific objects.
The product is available now via the Salesforce AppExchange. Pricing is $30 per user, per year but there's a 14-day free trial available on Spanning's website.