HTML to PDF Tools: a different kind of PDF converter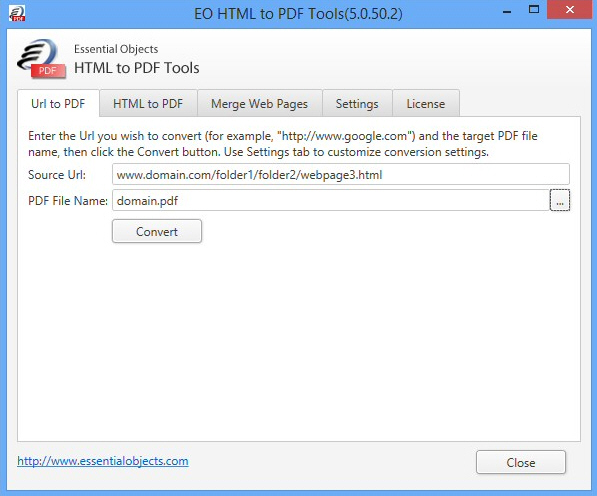 There are lots of HTML to PDF conversion tools around, and most work in the same way: they'll process the HTML code, convert it into an image, and save this as a series of JPEGs in the finished PDF.
This works, but the results are basic, image quality will be lost, and there can be various other problems (you might have to install a virtual printer driver, there could be dependencies on other software).
This "virtual printer" approach still works well in many situations, but if you need something more, you might be interested in the free HTML to PDF Tools.
The program's first advantage is that it's portable (well, sort-of). It comes in the form of a 201KB, which downloads a supporting DLL when first launched, or if the DLL is updated. There's no adware, no virtual printer driver or anything else installed on your PC, and it doesn't have any annoying dependencies (you won't need to have a particular version of a browser installed, for instance).
Once the initial download is complete, HTML to PDF Tools displays a straightforward tabbed interface. Getting started is as easy as entering a source URL in one box, a destination PDF name in another, and clicking "Convert". The program downloads the relevant page, converts and saves it for you, and asks if you'd like it displayed.
Click "Yes" and you'll quickly realize what makes Free HTML to PDF different. Its finished documents aren't just static images, they actually work like the original site: you can select text, or click links and be taken to the appropriate web page.
The program embeds graphics at their original resolution, too, rather than just resizing them, so there's minimal loss of image quality.
Elsewhere, a second "Merge Web Pages" tab allows you to enter multiple URLs -- www.domain.com/page1.html, www.domain.com/page2.html -- and saves all of these to the same PDF.
There's also an "HTML to PDF" tab, where you can enter HTML, JavaScript or CSS code, then have it rendered and saved to PDF.
Finally, a Settings tab gives you control over the finished PDF document. You're able to set "Page Size", margins, a zoom level, header, footer and more.
While this sounds great (and often is), the program also has plenty of issues.
HTML to PDF Tools can only render regular text, image and graphic content. If your target URL makes heavy use of Flash, say, those areas will be left blank in the finished page.
The program makes no effort to fit HTML content to your PDF document. If the source page is too wide, it'll just be truncated at the right side. You'll have to manually experiment with different paper sizes and zoom levels to get better results.
HTML to PDF Tools doesn't remember the URLs or file names you specify. If you have 10 URLs you'd like to regularly save via the "Merge Web Pages" dialog, then you'll need to manually enter them, each and every time.
The lack of helpfulness continues elsewhere. Every time you run a conversion, for example, you're asked whether you'd like to display the finished PDF, and must click "Yes". Why not have an option to remember that, so the next time it happens automatically?
And it looks like there are some bugs, too, with two of our test conversions displaying cryptic error messages. These aren't quite as bad as they seem, though -- we just clicked "Convert" again and the PDF was produced correctly.
These various hassles can be annoying, particularly if you need to regularly convert lots of pages.
But if you're only running the occasional conversion -- and you'd like more dynamic PDFs, with selectable text and clickable links -- then HTML to PDF Tools could provide everything you need.