Build 2014 kicks off today -- what are you expecting?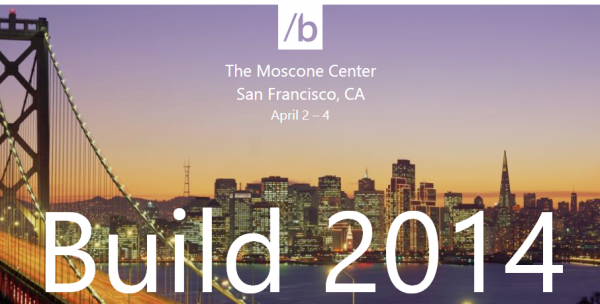 There are a couple of major events scheduled for today but, with apologies to Amazon, Microsoft is set to steal the limelight with the kickoff to its Build 2014 conference. The show, which takes place at the Moscone Center in San Francisco, will run through this Friday, and features a plethora of sessions geared towards developers.
But those sessions aren't what matter to the average user -- the big stories will come out on day one with the keynote that kicks off at 11:30 am EDT. There are a few things we expect and others that are are rumored, and some that can be left to pure speculation. Here is a brief look.
Windows Phone 8.1. I won't go into this -- the news has been blabbed around the web and we've even seen some leaks. It's safe to assume that the final product will be unveiled during the show, and it will be a big deal, given the attention it has received, along with the new features that are expected to come along for the ride.
Windows 8.1 Update. Again, like the new mobile OS, we know it's coming. In fact, it is scheduled to be available to MSDN subscribers today. This is another one that has experienced multiple leaks. It's big, of course, but not necessarily the "gotcha" news that may reveal itself in the course of the day.
With the obvious out of the way, it's the fun time where we move on to speculation and rumor. After all, what would this business be without these things?
First up is one that has been kicking around for a while, and just refuses to bite the dust. A Surface Mini tablet. A 7-8-inch tablet has been back and forth in the news cycle forever, it seems. With OEMs like Dell now building smaller models, it is a logical next step for Microsoft as well. After all, the Surface is ultimately the flagship -- the face of the corporate tablet efforts.
From there we go a bit further afield. I won't waste your time much here, because neither could amount to anything. However, two sessions being held this week managed to catch my attention.
One is surrounding Windows and "The Internet of Things". As a bit of a home automation geek, this got my attention. It isn't a surprise that Microsoft would delve into this area -- hell, it isn't even new. The company has been showing homes of the future for years (Bill Gates owns one), and its labs area is always working on some sort of magic to make customers feel they are living in the age of The Jetsons.
The second thing that got my attention, though, much less so, was a session on Kinect for Windows. This was recently updated, and perhaps the lecture is nothing more than rehashing the update and bringing developers up to speed. Regardless, it's an area to potentially keep an eye on -- a market that hasn't yet reached maturation.
While many of the sessions are geared, shockingly enough, towards developers, there are those little ones that pop up, providing possible insight into direction and future announcements. This is only a very brief look at what to expect or hope for. We're about to get the full story though -- or at least the beginning of it.