Shelfies turn into custom themes as Gmail stops pranking users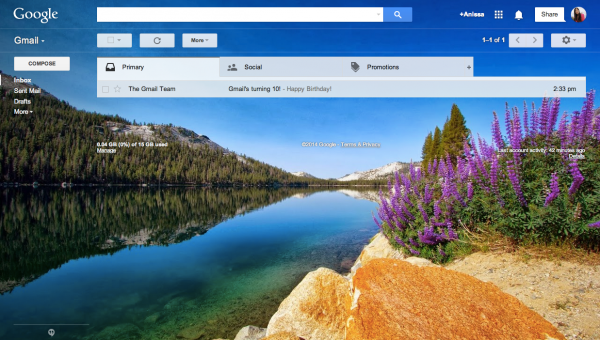 Yesterday was April Fool's Day -- a celebration of hijinks that are enjoyed by readers and somewhat feared by media outlets. Every story requires extra attention, as it is combed for signs of a prank. However, like the readers, the writers mostly enjoy the day as well -- there are notable exceptions, mostly those who managed to get bit by a joke.
One of the popular memes for this year was Gmail Shelfies which, if you were not careful, changed your email theme to a lovely picture of Katy Perry.
Shelfies, it seems, were a prelude to an actual feature that the company now launches. "Many of you told us that you loved the concepts of themes and sharing together, so we worked through the night to update this feature into something even better. Today, we're excited to announce that you can now share any custom theme--your favorite vacation spot, pet, family photo or even, yes, a selfie--with friends, loved ones or anyone", says Google's Greg Bullock.
Head to the settings page, click on themes, and you'll now find an option to "share your theme" -- or you will soon, depending if it's rolled out to you yet.
For those who got bit by Shelfies yesterday (no names) you can now upgrade Katy Perry to something more in keeping with your taste. The company also plans a "Theme Thursday" where it shares customized versions via its Gmail Google+ page.