Quick Review: Baidu PC Faster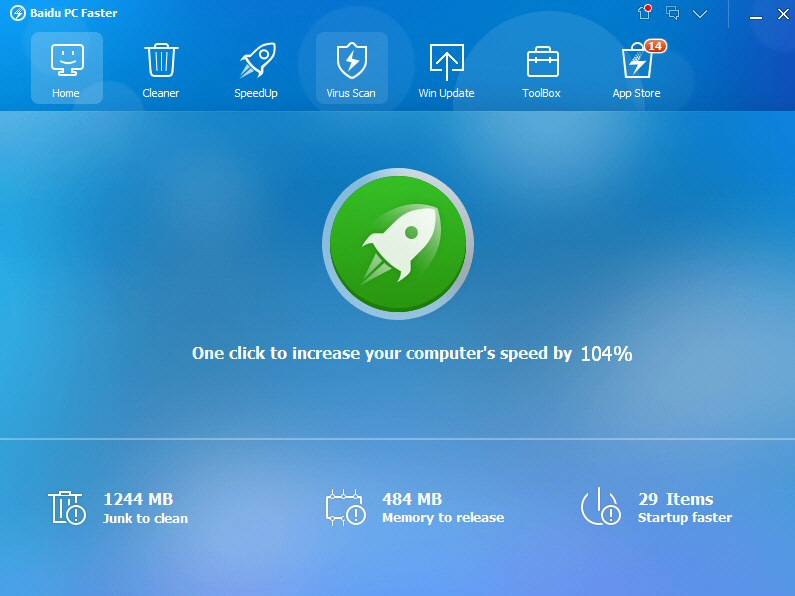 Baidu PC Faster is a free suite of tools to clean, optimize and maintain your PC. Yes, we know: we've heard this before, too. But PC Faster could be different, not least because it comes from Baidu, the company behind China's largest search engine. Will this extra corporate power ensure it really delivers? We took a look.
Setup was easy, a small downloader fetching and installing the rest of the program. It's also a little more intrusive than most of the competition, though, leaving two new services and some extra processes running permanently in the background.
The PC Faster interface looks good, and is generally easy to use. A toolbar provides access to various areas of the program ("Cleaner", "SpeedUp", "Win Update"), and opening any of these lists additional options (the Cleaner can clean up junk files, the Registry, web and application histories, and more).
The core tools are very familiar. They're all about deleting temporary files, controlling your Windows startup programs, deleting orphaned Registry keys, cleaning browser caches, and so on.
They delivered reasonable, though not exceptional results on our test PC. The Junk Cleaner was a mild plus, finding fractionally more leftovers than CCleaner. But we weren't quite so sure about the Startup Items module, which seemed to focus mostly on disabling every application update checker on the system.
This might be because PC Faster has an App Store, which itself can check for and highlight any missing updates for your applications. Better still, it provides an easy way to find and install further programs. If you need an Office-type application, for example, you might click the "Business" category, browse to LibreOffice, click "Install", and just wait: Baidu PC Faster will download the latest version and launch its installer for you. This needs more testing to see how it performs over time, but what we tried worked very well.
The integrated Virus Scanner is another ingredient you won't find in most maintenance suites. In this case that might be a good thing -- it's an on-demand scanner only, and not very accurate -- but it's easily accessible if you need a quick system check.
As with many of these suites, PC Faster has a "Toolbox" area where it crams in smaller extras: a defrag module, file wipe and undelete tools, a context menu editor, internet speed test, LSP repair tool, and more. Some of these are horribly basic (the "System Information" tool is particularly feeble), but others are more interesting: a "Game Faster" tool applies various tricks to optimize system performance when you really need it.
Baidu PC Faster has its problems, then. As with most similar suites, you can't always trust its recommendations, so you need to explore the program carefully to find out what works for you. And the English language translation is so bad in places that we almost thought they'd created it with Google Translate, except that might have produced better results. "Impact of other startup items may result in ineffective settings partly"; uh-huh.
Baidu PC Faster does have some unusual and time-saving features, though, and a clean and straightforward interface keeps it easy to operate. If you're looking for a free maintenance suite then it's worth a closer look.