Grace Digital Encore -- a powerful standalone internet radio [Review]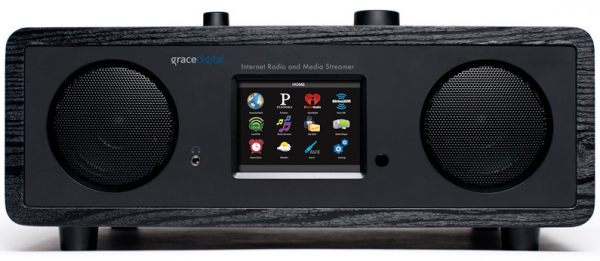 Internet radio has become quite popular, with an ever growing number of services, including favorites like Pandora and Spotify, as well newcomers such as Beats Music. For the most part customers use these services on smartphones and computers -- thanks to Google Music All Access and a Bluetooth speaker on my desk, my Nexus phone gets me through the day.
But there are also stand-alone products designed just for this purpose. Grace Digital is one of the leaders in the field and the Encore is one of the top-of-the-line offerings from the company.
What the Encore Has to Offer
First, this is not exactly the nightstand product you may picture when thinking internet radios. It's roughly the size of a stereo component, measuring 12.8 x 4.7 x 9.1 inches and weighing 8.5 pounds. However, it really isn't meant for your stereo cabinet, but for a remote location in the home -- kitchen, bedroom, etc.
The reason I say this is because the controls are on the top -- that's where you'll find power, play, pause and a bunch more. The front has a clean look, with a color LCD display.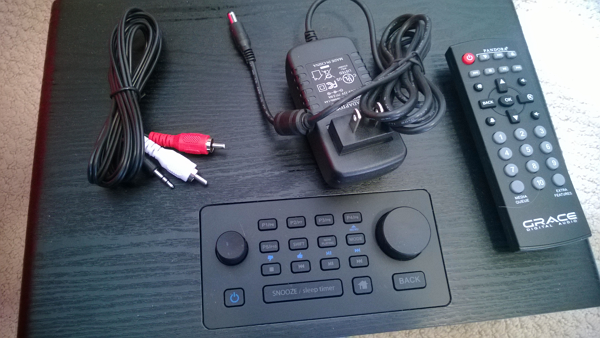 It can play multiple file formats, including AAC, AAC+, MP3, WAV, WMA, ADTS, AIFC, AIFF, CAF, NeXT, OGG,ASX, M3U, PLS,HTTP, HTTPS, RTSP, Apple Lossless, and FLAC 24-bit 96kHz files.
It also packs two front speakers, along with a subwoofer on the bottom. There is a USB port to add storage and a pair of composite jacks (both in and out) in case you wish to hook the device into an A/V receiver to pump it through your home theater. There is also a remote control for easy command of everything. This all works over 802.11N wireless.
Setting it up
An extended guide comes with Encore, and I'd recommend following it, as the process is not completely straight-forward. It's not difficult, just not dead simple.
Step one is the Wi-Fi setup, and if your home network is password-protected then you will need to enter that before moving on. The remote doesn't have a qwerty keyboard, so you'll be forced to scroll through the letters, number and symbols using the up and down arrows on the remote. Thankfully, it's a one-time thing.
You will also need to set up the clock and date -- both will display when the device is in standby mode. To do this, either tap the menu button on top or use the remote to navigate down to settings on the screen. This one is easy, as US time zones are built in, and the device configures itself as soon as you click one of them.
You can also choose the level of backlighting for the screen, but I found that default worked perfectly fine for my tastes.
Usage
Several options are available out of the box. The first I tried was Live 365, which offers a few preset choices covering various genres. While it worked great, and started playing almost instantly, I found it a bit maddening that track ID information was not displayed -- this is the service, not the device. An "Extra Features" button on the remote will allow me to add the station I chose to my list of "presets", making for easy access later.
Pandora complicates things just a bit. You'll need to set this up using your computer, as the guide states. Head over to grace.reciva.com and set up an account. To do this, you begin with the Encore -- go to Settings and choose the option to get a registration key. You will need to enter this on the site, then set up your account.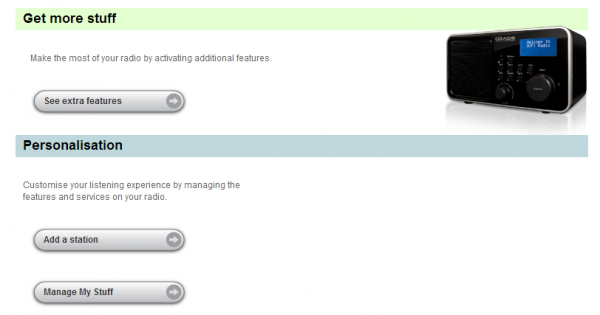 Once all of this is out of the way there are some things you can do from here, including obtaining extra features and customizing the device to suit you. You'll need this, not just for Pandora, but also extras like Sirius and Rhapsody. You can also enter station names and URLs to add your own content to the system.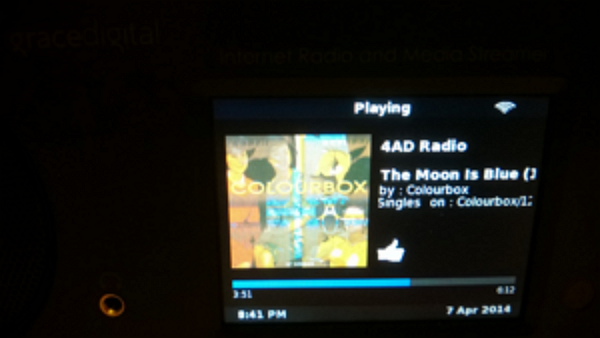 Sound
"Dual three-inch tweeter/midrange and bottom facing four-inch woofer powered by a digital class D amp". That's how the device is described. I am far from an audio expert, and certainly do not have a golden ear. So I will leave this subject by saying that it sounds very good, and packs excellent power.
Bonus Features
There are some extras included. For instance, customers can add stations they like to the preset list, aligning each to a number, much like a car stereo. There are also timers to take advantage of -- fall asleep to music with a preset termination time, but you can conversely set an alarm for a wake-up call.
When the power button is pressed to end play, the Encore goes into a stand-by mode. In this form, it displays a digital clock, again making it handy for a nightstand. It will fit there, I tried, but expect it to take up some space.
You can also request a station that is not currently in the database be added, as well as switch the alarm between music and buzzer and alter the duration of the snooze timer. Alarms can also be set as one-time, daily, weekdays, etc.
Conclusion
The Encore has a lot of nice features, including a full-color LCD screen, expandability via USB, and integration into a stereo system through composite jacks. The two knocks I would throw at it are the lack of an Ethernet port. While 802.11N works just fine, I prefer a wired connection whenever I can obtain one, and the Reciva setup for customization was not the most user friendly. Neither is a big deal, though.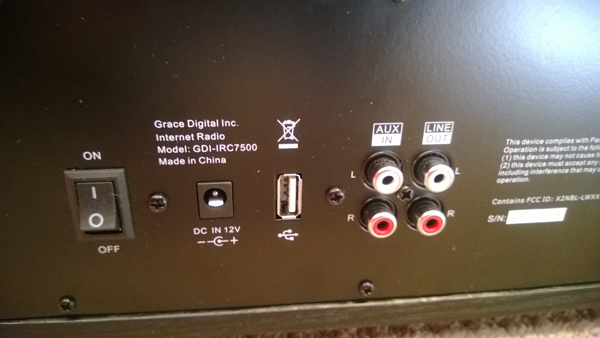 Depending on the service you are using, the device may or may not display the track information. This isn't a fault of the Encore, but of the service -- Radio 365 doesn't display this information, while Pandora does, for example.
Still, feature-wise, the Encore has pretty much everything to recommend it. It's a bit large for some implementations, but I doubt that will matter to many customers. The sound is also large, so consider it a trade-off. It retails from Grace Digital for $249, but lower prices can be found on Amazon.