These new Samsung Galaxy Pro video ads are awesome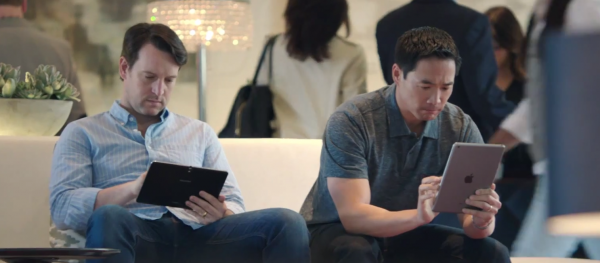 Unlike other mobile device manufacturers, Samsung gets advertising and it also has the money to afford it. Remember the campaigns that pitted flagship Galaxy smartphones against Apple's competing iPhones? Those serve as a prime example of how effective Samsung can be when it comes to comparing its own products against those of the competition.
Well, Samsung is at it once again. This time around the company is showing its Galaxy Pro series slates against Apple's popular iPads and Amazon's Kindle, in four video ads which, once again, focus on major differentiating features. And Samsung is doing a very convincing job here by tackling the right areas, where its slates have a clear advantage.
In the popular Galaxy smartphone ads, the focus was on a much larger screen, 4G LTE and NFC. Now, center stage is taken by multiple user accounts, superior multitasking, a higher resolution display and, when compared to the Kindle, the ability to do more than just read books.
There is a dedicated video ad for each Galaxy Pro series advantage. In "Multi user", the iPad fails as a family tablet due to the lack of support for more than one user account, which allows kids to delete their parents' files. While I do not have kids, I can relate to the advantage of having the feature, as it allows me to share a tablet (a Google Nexus 7) with my other half, without getting in each other's way.
This is an advantage every slate running a newer version of Android has (starting with the second Jelly Bean iteration), over any iPad. I would not want to go back to a single user account, now that I rely on this feature.
In "Pixel Density", the non-Retina iPad mini loses out to the small Galaxy Tab Pro for its lower display resolution. No surprises there, as the Retina version is not in the picture. That said, the 8.4-inch Galaxy Tab Pro is actually competing against the latter on price, at least in US.
"Two Things at Once" shows the 10.1-inch Galaxy Tab Pro edging the iPad (I cannot tell whether it is the Air or one of the previous versions) in multitasking, as the latter is unable to display more than one window on its screen. For a large tablet, this can be a welcome feature, especially for those who wish to use them as laptop replacements.
While Amazon's Kindle tablets are not exactly meant for just "books", in "Book Club" Samsung is taking advantage of the superior Android app selection available for its Galaxy Pro series tablets to show YouTube. Google Play is making the job easy for Samsung.
The ads are nicely done, with a clever dose of humor added into the mix. Good job, Samsung.