Twitter introduces web notifications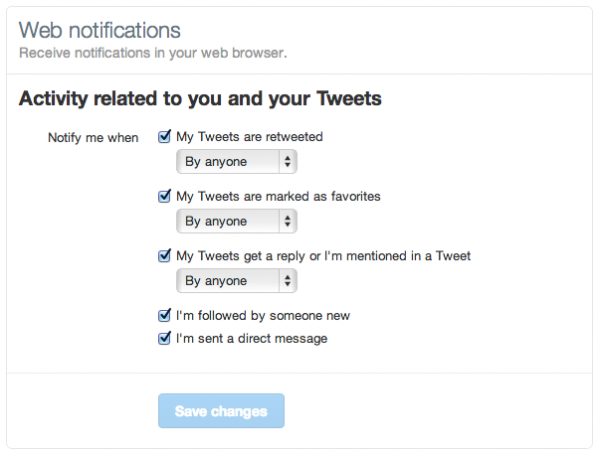 Using social media services such as Twitter, Google+ and Facebook can be a dizzying affair. The more people that you follow or become friends with, the more "noisy" the experience. Quite frankly, it can become an impossibility to keep track of all the friend-requests and notifications.
Twitter can be particularly difficult for me, as I must keep the list of who I follow rather small, or else I cannot keep up. Luckily, the blue bird-logo company is aiming to make things more manageable for us web users with web notifications.
"When you're logged in on twitter.com, you will receive notifications if someone has replied, favorited or retweeted one of your Tweets. You can also receive notifications for direct messages and new followers. They're fully interactive, so that you can reply, favorite, retweet, and follow right from the notification. We'll be rolling this feature out over the coming weeks", says Michael Ducker, Twitter.
Ducker further says, "to make sure you're getting the notifications you want, go to your Settings on twitter.com. That's where you can choose what types of notifications you want to get on twitter.com and via email and mobile. If you use a Twitter app, check out your settings there too, so you can refine the types of push notifications you receive".
Of course, if you are just a casual Twitter user that leans toward disliking the service, you can simply uncheck all of the boxes and enjoy some relaxation. Twitter-junkies however, will likely check all of the boxes, and enjoy the bombardment of notifications. Personally, I can't wait, but the feature has sadly not reached my account yet.
Are you looking forward to Twitter web notifications? Tell me in the comments.
Photo Credit: 3Dalia/Shutterstock