Peazip introduces File Manager improvements, updates archiving tools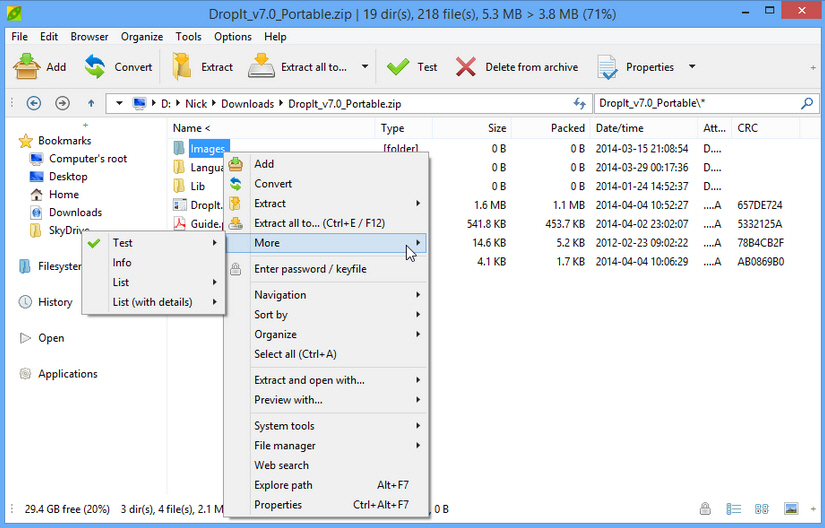 PeaZip srl has released PeaZip 5.3, the latest version of its open-source, cross-platform archiving tool for Windows and Linux users. The archiver supports over 178 file extensions, and is also available for Windows users in 64-bit form as well as portable builds (both 32-bit and 64-bit).
Version 5.3 launches with numerous new features and improvements to the File Manager graphical user interface as well as a wide range of improvements to its archiving and extraction tools.
New features added to the File Manager include localization for the cascaded system's context menu entries in Windows 7 or later. The installable version also adds a user confirmation dialog when attempting to reset the system integration settings via the Reset button on the Options > Settings dialog.
Users can now sort bookmarks by name, while the details mode in the File Browser now shows icons for special paths, such as the user's home folder.
When searching for duplicate files and checksum/hashes, the results are now displayed automatically in list mode, while the multi-threading option is now remembered by the program.
PeaZip 5.3 also sees the navigation bar's + button allow users to switch between navigation and tree views, while the treeview sidebar has also been improved to show icons for folders, drives and special paths. The function list has also been moved to the context menu from a button previously displayed on the left of the status bar.
Users can now toggle between bookmarks, filesystem and history views using a new multi-functional pop-up menu accessible by clicking the ˅ button to the left of the address bar. Users can now also add a Session History option to the Status bar via the + button.
PeaZip 5.3 also sees the Windows backend updated to use FreeArc 0.67 alpha for compressing files. The code has also been compiled with a new version -- 1.2.0 -- of the FreePascal Compiler Lazarus. The Linux build has also been recompiled with Qt bindings v2.5, which makes it compatible with Qt from versions 4.5 to 4.8.
The new build also includes a number of improvements and changes to PeaZip's extraction and archiving functions, including improved inclusion filters for archive creation and a new task progress bar that can identify paused (yellow) and problematic (red) tasks.
Peazip 5.3.0 is available now as a free, open-source download for Windows and Linux. Also available for Windows users are Peazip 5.3.0 (64-bit), PeaZip Portable 5.3.0 and PeaZip Portable 5.3.0 (64-bit).