Run super-fast file searches with Hddb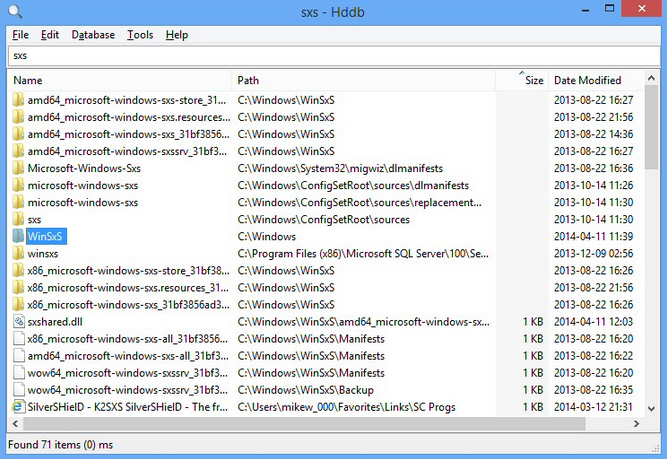 If you need to run rapid searches for file names on NTFS drives then there's no substitute for VoidTools' Everything. The program's smart use of the NTFS Master File Table (MFT) means you'll see matching files almost as fast as you can type.
There are competing tools around, though. And the latest, Hddb (Hard Disk Database) is particularly interesting, as it claims to address and fix some Everything problems. Is it worth your time? We took a look.
Hddb is a compact 625KB download. It must be installed -- there's no portable option -- but with no adware to avoid, this is straightforward enough.
The developer says that "Hddb was built in imitation of Everything", and the program does look and feel very similar. There's a simple window with a search box at the top; start to enter your target file name, and matches appear and are updated immediately.
Once you spot a target file, you can launch it with a quick double-click, or right-click to see the usual Explorer context menu. And there's also a File > Export option to save the list of matching files to a plain text report.
Hddb has some advantages over Everything.
It doesn't require administrative rights when searching (only updating), so you won't see as many UAC prompts.
The program has an option to display folder sizes, and can be much faster when sorting by date or size. (Faster than the standard Everything build, anyway; the latest beta also addresses this.)
It doesn't rebuild its database automatically, either. Some people may see this as a problem, but it does mean you won't be kept waiting on launch occasionally while the database is updated.
Hddb is also a little slower when searching -- though probably not enough to matter -- and much simpler. There are no search tweaks here ("Match Case", "Match Whole Word"), no regular expression support. It doesn't include any server options, and is far less configurable, all of which means that Everything remains the search choice for power users (especially if you try the betas).
Of course the program is still only at version 1.0.3, so it's no surprise that it's a little short on extras. Still, core features like Hddb's faster file sorting are welcome, and if you're annoyed by Everything's UAC prompts and prefer the manual database rebuilds then it probably deserves a download.