Google Trends helps you be relevant and the life of the party with 'Hot Searches'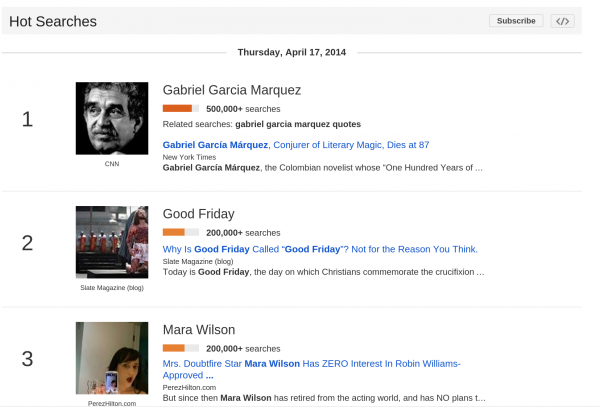 Have you ever been at a party and felt out of touch? I have. Quite often, the conversation turns to some Internet meme or current event and I just have no idea what people are talking about. It's my own fault, I tend do focus mostly on technology news as world news is rather depressing. Not to mention, it is hard to find time to stay on top of it. Believe it or not, I even ignore weather reports as I prefer to be surprised.
Google apparently feels my pain as it aims to make me relevant and sociable again with an updated Google Trends. Yes, the search-giant has created a way to get hot trends delivered right to your inbox.
"Google Trends is a helpful place to see what people are searching for around the world. You can keep up with hot searches in real time, or take a historical look at trends dating back to 2004.Trends can be really useful if you're a business owner trying to understand what people are saying about your brand, if you're a student researching a topic for sociology class, or if you're simply trying to figure out when 'doge' became a thing", explains Gavri Smith, Software Engineer, Google.
Smith further explains, "without doing your own exploration on the Trends website, it can be tough to find the interesting -- and sometimes surprising -- topics the world is searching for. Starting today, it's easier to get just the right insights at just the right time with email notifications".
Basically, you can subscribe to "Hot Searches" or specific "Top Charts", so you will always be kept abreast of new trends and popular topics. This is an awesome solution, as you will be made aware of topics you hadn't even thought of or knew about.
If a person only subscribes to topics of current interest, they can become trapped in a bubble and miss out on much. Similar things happen with music or movies. For example, if you are a fan of 90s music, before you know it, 20 years goes by and you are still listening to the same Nirvana albums. Your growth is stunted by a lack of education on new bands.
In other words, by subscribing to "Hot Searches", your world can expand and you can stay relevant. Who knows, maybe at the next party you attend, you can talk about something from this decade.
Photo Credit: Paul Guzzo/Shutterstock