Apple Q2 2014 by the numbers: $45.6B revenue, $11.62 EPS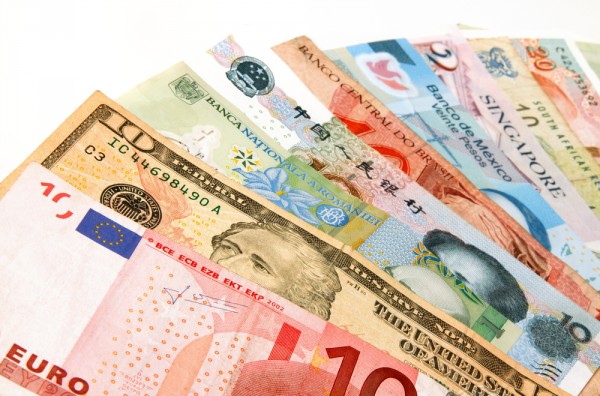 The Apple of Wall Street's eye takes little bruising today, with announcement of fiscal second quarter results. During three months when concerns about falling revenues and profits was constant rumbling, the fruit-logo company defies the worst naysayers.
For fiscal Q2, Apple reports $45.6 billion revenue and net profit of $10.2 billion, or $11.62 a share. Gross margin: 39.3 percent. International sales accounted for 66 percent of revenues. A year earlier, the company reported revenue of $43.6 billion and $9.5 billion net quarterly profit, or $10.06 per share. Gross margin was 37.5 percent.
Three months ago, Apple projected revenue between $42 billion and $44 billion and gross margin from 37 percent to 38 percent.
Analyst consensus for the quarter is $43.53 billion, down 0.2 percent year over year, and EPS of $10.18. Revenue estimates range from $41.76 billion to $44.5 billion and $9.65 to $10.69 earnings per share. Financial results exceeded estimates, then.
Looking ahead, Apple estimates revenue between $36 billion and $38 billion and gross margin from 37 percent to 38 percent. Guidance is in line with Wall Street consensus of $37.4 billion revenue.
Today, Apple announced a 7-to-1 stock split, and new trading afterwards will start June 9.
Analysts closely watched iPad, iPhone, and Mac shipments coming into today's financial disclosure. Industry-wide, smartphone shipments slow in the two largest markets, China and the United States, while sales soar of models priced considerably lower than iPhone in other regions. Then there is the struggling PC market, as buyers choose tablets first, even in emerging markets where computers had been anticipated to sell well but don't.
Apple shipped 4.14 million Macs, 16.35 million iPads and 43.72 million iPhones during the quarter. Analyst consensus was around 3.9 million, 19.3 million and 38 million, respectively. Interestingly, estimates closely align with actual shipments for the previous quarter.
"iPhone was key in driving our more-than-expected results", Apple CEO Tim Cook says. During the past month, more than two-thirds of iPad buyers were new to the tablet, while more than half of iPhone purchasers were new to the handset, he emphasizes.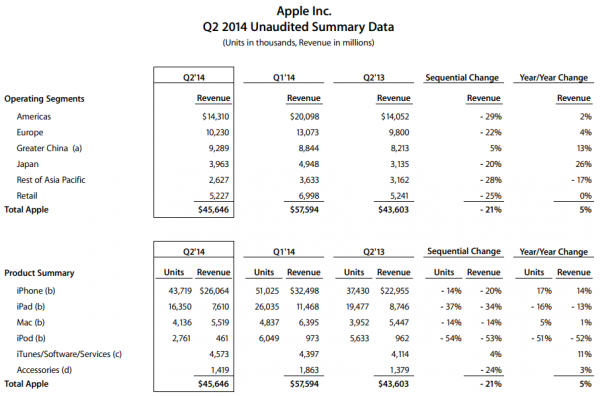 Shipments in Context
Apple's position in the U.S. PC market weakened during the quarter. IDC says Mac shipments fell 7 percent year over year, pushing rank to fourth place. The three leaders -- HP, Dell, and Lenovo, respectively -- all saw growth gains. Apple's market share was 10.3 percent, just behind Lenovo. However, Gartner findings dispute IDC's, with Apple barely holding third place -- 10.8 percent share to its Chinese rival's 10.4 percent.
Lenovo is the dog chasing Apple's bone, not just in PCs. The pending Motorola and Sony VAIO acquisitions -- largely for phones and PCs, respectively -- will bolster Lenovo's position in the fruit-logo company's home market while advancing ambitions across Asia.
Tablets are the main cause of the PC's decline. NPD DisplaySearch sees slate shipments largely displacing laptops this year -- 315 million units, or 65 percent of the mobile computing market. Average selling price of $311 falls below Apple tablets, which start at $399.
"Momentum for the tablet PC market is in full swing as it has become the dominant mobile PC form factor", Richard Shim, DisplaySearch senior analyst, says. "Competition is expected to increase as traditional notebook PC brands, including Lenovo, HP, and Dell update their product portfolios to emphasize tablet PCs. Increased competition will mean more attention on, and development of, various segments of the market, which will ultimately lead to greater choice and devices that better fit the needs of consumers".
Analysts are watching iPad's performance, particularly in mature market the United States. Gartner expects the install base to reach 50 percent this year. Already, during fiscal second quarter, winds of change whipped Apple. "The U.S. saw the gradual recovery of PC spending as the impact of tablets faded", Mikako Kitagawa, Gartner principal analyst says. But note that spending largely led to growth for Windows PC manufacturers rather than to Macs.
For Q2, iPad shipments fell far below analyst consensus. Cook dismisses concerns, stating during today's earnings conference call that iPad came in at the high-end of the company's expectations. The apparent problem isn't one. Apple sold more iPads than shipped, while in the year-ago quarter inventory overflowed from first to second quarter.
As buyers' appetites shift from PCs to tablets and also smartphones, Apple's challenge is maintaining early category-changing leads. Based on analysts' device forecasts, the proposition is increasingly challenging. For example, in 2013, Android device shipments exceeded iOS and OS X by three times -- 879.8 million to 241.4 million, respectively, according to Gartner. This year, Android is expected to jump to 1.17 billion units, while Apple platforms nominally increase to 286.4 million.
As Android shipments rapidly rise, so is expected application developer and third-party add-on/peripheral manufacturer involvement. The point, when putting it all together: Wall Street watches with wary eyes, wondering what will bring back the Apple magic. The last big winner, iPad, released four years ago, when Steve Jobs was alive and still in charge. Last year, Cook promised exciting, innovations for second half to 2013.
"We're eagerly looking forward to introducing more new products and services that only Apple could bring to market", Cook says today. The watchers wait, still.
Results by Category
iPhone. Average selling prices fell about $41, the largest drop ever. iPhone 4S sales, particularly in China and other emerging markets, contributed to ASP declines. In some markets, 4S accounted for more than 80 percent of new iPhone customers. "It gets them into the ecosystem", Cook says of the lower-priced iPhone. "Our ability to keep customers is very good".
Year over year, unit shipments rose 17 percent and revenue by 14 percent. Sequentially, units fell 14 percent and revenue 20 percent.
iPad. Cook calls iPad "the fastest-growing product in Apple's history". He emphasizes: "We sold more than 210 million" iPads since launch -- or more than 4 times the number of iPhones "during the same period of time". Apple's focus is "penetration -- getting more schools to buy". He claims that "student achievement is higher in classrooms, than without it".
He identifies "penetration" as being important for enterprises, as well. "I think having it on iPad is good", Cook says about Microsoft Office, which released for the tablet earlier this month. He emphasizes the importance in the "enterprise area".
Year over year, unit shipments fell by 16 percent and revenue by 13 percent. Sequentially, units plummeted 37 percent and revenue 34 percent.
iPod. The music player continued its long march to oblivion. Year over year, unit shipments fell by 51 percent and revenue by 52 percent. Sequentially, units slumped 54 percent and revenue 53 percent.
Macs. Year over year, units rose by 5 percent and revenue by 1 percent. Sequentially, units and revenue fell 14 percent.
Software/Services. Apple has nearly 800 million iTunes accounts, "mostly credit cards", Cook says. Revenue rose by 11 percent year over year and by 4 percent sequentially.
Retail. Apple Store revenue was flat year over year, but fell 25 percent year over year.
Geographies. Apple set a sales record in BRIC -- Brazil, Russia, India, and China -- with the latter country a strong performer. Revenue rose to $9.3 billion from $8.8 billion year over year. iPhone sales climbed 20 percent, Mac 13 percent, and iPad 6 percent. "We did well in every single area in China", Cook says. Eighty-five percent of iPhone 4S buyers and 69 percent of 5s purchasers are new to Apple handsets. They are "heavily Android switchers", Cook says -- more than 60 percent of buyers for both devices.
Photo Credit: Lucia Pitter/Shutterstock