Stop users running specified programs with Simple Run Blocker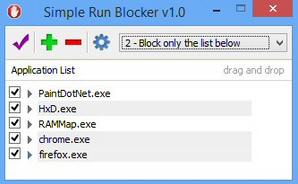 Sordum has released Simple Run Blocker, a compact portable tool which can prevent users on your PC from running certain applications.
The program is very simple to use. Drag and drop any target executables onto the Simple Run Blocker interface, save those settings, and the application should be blocked (although we found you may need to restart Explorer or reboot, first).
If you really want to lock down a PC then you can have Simple Run Blocker run in a "whitelist" mode, where it blocks everything but the programs you approve.
Simple Run Blocker doesn't install any dubious low-level blocking mechanism of its own. Instead it just provides a very basic way to configure Windows' own Software Restriction Policies, so you can be sure that it's going to be reasonably effective and safe.
There's still scope for problems, of course. Accidentally block something important, and in the worst cases you might find your system won't start properly. You'll need to boot into Safe Mode, relaunch Simple Run Blocker and adjust or remove your restrictions to get everything working again.
This clearly isn't the most essential tools. Technical users will be able to bypass it fairly quickly, and if you just want to limit what your children can do on a PC, then Windows "Family Safety" gives you many more options without having to run any extra software at all.
Simple Run Blocker is tiny (364KB), portable, free and extremely easy to use, though. There's no adware, no catches, it's just a quick way to quickly block a few applications. If that sounds appealing, go take a look.