Visme wants to be the only tool businesses need for visual content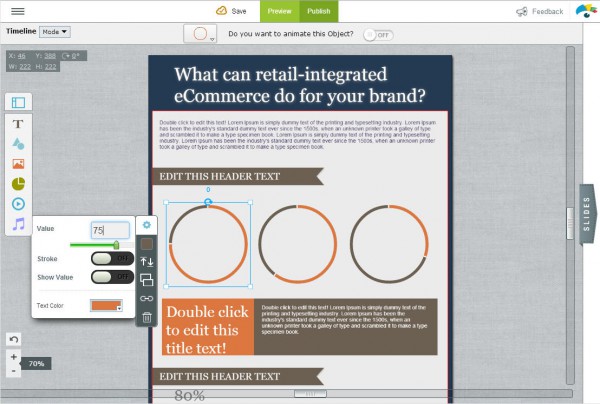 Whatever message you want to get across, whether it's in an advert, an infographic or a presentation, how it looks is key to success.
Maryland-based Easy WebContent has relaunched its Presenter tool under the name Visme aiming to make it a "Swiss knife for visual content".
Developed with input from 35,000 beta users and using a drag-and-drop interface the online tool aims to make visual content generation easy, fast and more efficient. Thousands of free images and icons are included so users can get started quickly and it enables motion and mobile/web friendly text to be added to any presentation element.
"Visme epitomizes everything we strive for. At the core we are a visualization tool and our mission is to simplify the ability for anyone to easily transform their thoughts and ideas into engaging visual content," says Easy WebContent founder Payman Taei.
The company says the most common uses of Visme are presentations, infographics, banners and short animations and teasers. Users can easily publish and share Visme content online, embed it to websites or blogs, or download it as Image, PDF or a HTML5 file.
The tool runs within your browser and a simplified interface improves the user experience and allows faster creation of content. You simply select the type of content you want to create, choose a theme and you're into the editor. Motion can be added to any element to make animated banner ads for example.
Taei says, "You shouldn't need to be a multi-million dollar company to produce compelling visual content. And even if you are, why would you pay some exorbitant rate to bring in a third party to do something you could just as easily handle in-house? With Visme, we put the work on the back-end of our product so that producing and editing visual content is the intuitive, creative experience it should be. Our guiding principle is that complex software and esoteric coding should never get in the way of translating thoughts and ideas to visual content".
You can sign up for a free account to try the beta version for yourself on the Visme website.