Firefox sports major facelift, improved Sync tool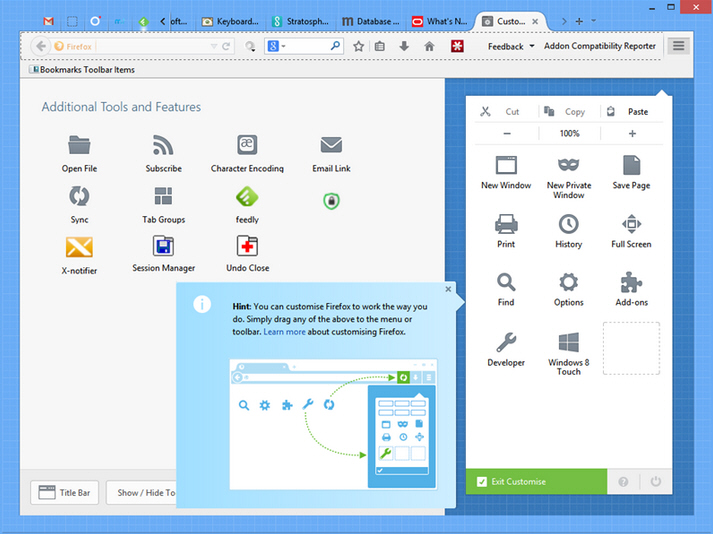 Mozilla has released Firefox 29.0 FINAL for desktop, with Firefox for Android 29.0 also due for release shortly. Version 29 is a landmark release, sporting a major redesign of the program interface.
It also debuts a vastly improved -- and simpler -- Firefox Sync function using accounts, finalizes and enables the Gamepad API and offers a new interactive new tour to help step users through the new user interface.
The new user interface, codenamed Australis, has been in development for a long time, but has progressed smoothly through testing since first appearing in the Aurora build of Firefox 29. Windows users will notice the Firefox button has been dropped in favor of a platform-wide menu button accessible to the right of the main toolbar.
The new design also sports a new curved -- and slimmed down -- tab design, with an emphasis more firmly placed on the currently selected tab. Background tabs now fade more into the background, although rolling the mouse over one will make it more visible.
The new menu button is the same ≡ button found in rival browser Chrome, but aside from that and its positioning, the similarities between the two end. Firefox 29 adopts a clickable button-based menu that is also fully customizable, allowing users to drag rarely used add-ons off the main toolbar and on to the menu to keep them accessible, but less visible. The toolbar itself gains two new buttons for more easily adding and managing bookmarks.
Mindful of this major interface change, Firefox 29 launches with a first-run dialog that will step users through the new changes, and makes it clear how to both access and manage these new features.
Version 29 is also notable for overhauling the Firefox Sync function. It's now account-based, making it far easier for users to sync settings, bookmarks, history, tabs and add-ons between different machines.
The new release also finalizes and enables the Gamepad API, which has been present (but disabled) since version 24. The API makes it possible to play games through Firefox using a traditional console game controller.
One change is that navigator.plugins can no longer be enumerated -- this basically improves user privacy by preventing websites from getting a full list of installed plug-ins. Users will also find clicking on a W3C Web Notification will now switch back to the originating tab.
There are a number of tweaks for developers, from the implementation of the "box-sizing" control to the enabling of SharedWorker by default. The Add-on bar has also been removed, with its content now incorporated into the main developer navigation bar.
One issue with text rendering on Windows 7 and 8.1 remains unresolved, with users directed here for a workaround.
Mozilla is also due to release Firefox 29 for Android shortly. Changes include a Bing search plugin, support for Firefox Sync accounts, new quick share buttons, better integration for Open Web apps, plus the ability to both set a default home panel as well as hide and show panels.
Firefox 29.0 FINAL for Windows, Mac and Linux is available now as a free, open-source download. Firefox for Android 29.0 should be available shortly.