FreeOCR improves accuracy, but users should be careful when installing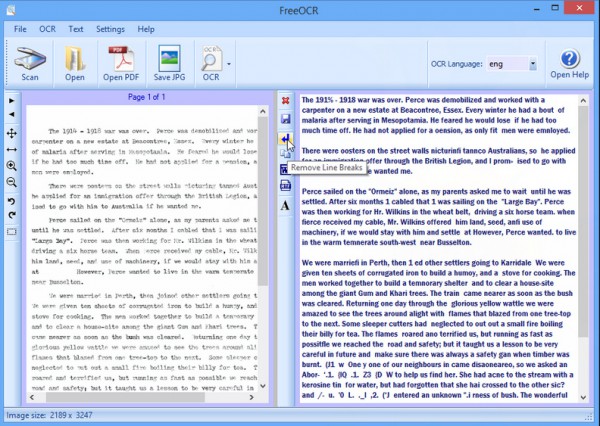 Ralph Richardson has released FreeOCR 5.0.2, a major update of his free OCR tool for Windows. Version 5.0.2 introduces one notable new feature -- automatic scan cleanup -- and adds official support for Windows 8.1.
It also fixes some bugs when using TWAIN scanners and changes the automatic updater tool to point to the program website rather than attempt to download a new version due to warnings flagged up by selected security tools.
Version 5's headline feature is the tool's ability to automatically clean up image scans to hopefully improve the quality and accuracy of the translation offered by the program's bundled OCR engine, the open-source Tesseract 3.01 OCR PDF engine.
The new version also comes with TWAIN scanning fixes that should prevent the program from freezing when used with selected makes and models of scanner, while the new version has also undergone testing in Windows 8.1.
The update also changes the automatic updater and implements more, non-specified, minor bug fixes.
While FreeOCR remains one of the best free tools for converting scanned documents into editable text, users are warned that it is bundled with an installer that attempts to install potentially unwanted software on their PC. This additional software is automatically blocked (as PUP.Optional.InstallMonetizer.A) by paid-for versions of Malwarebytes Anti-Malware, which then allows the main program to install.
Other users are advised to read all program windows carefully for the text "Please check this offer while your software is being installed", clicking Decline where they see the message to avoid installing any unwanted software. A useful tool for blocking these unwanted extras is Unchecky, which throws up a warning should the user inadvertently click Agree.
While we accept software authors have a right to monetize their products, FreeOCR fails to mention anywhere on its website -- including the EULA -- that these additional programs will be offered during installation. The closest it comes to acknowledging the fact is the note in the release notes about changing the updater to point to the program's main website.
The actual FreeOCR program installer itself is clean, so once installed, the user can proceed without fear of further software being offered. If you're confident about skipping the PUP installer armed with our tips, then FreeOCR 5.0.2 is available now as a freeware download for PCs running Windows XP or later.