Take, edit and share screenshots online with Screen Courier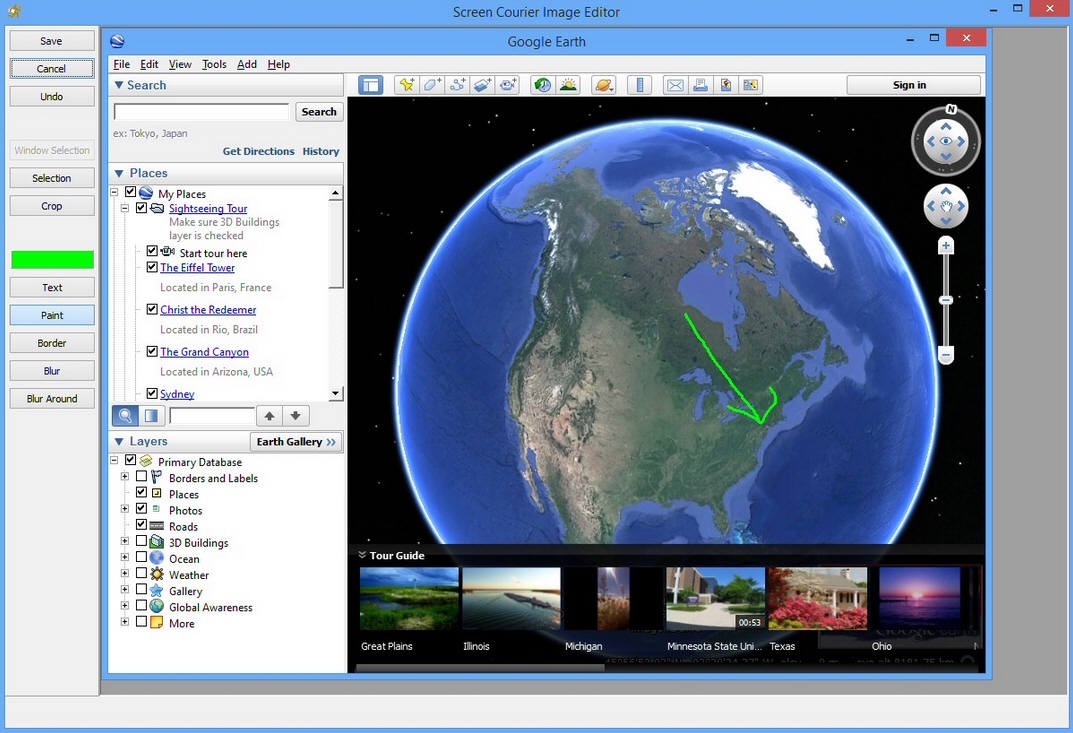 Screen Courier is a small but interesting screen capture tool from Mister Group, the developer of System Explorer.
The program installs quickly and easily. There's no adware, and even though it can host your captures online, no registration is required.
Once running, Screen Courier takes over the PrtSc key, and works in exactly the same way: pressing PrtSc captures the full screen, while Alt+PrtSc grabs the current window. There are no other capture types, and no option to use another hotkey.
A built-in editor has some unusual tools. Click "Window Selection", for instance, and the program will automatically select many rectangular areas -- windows, sidebars, toolbars -- as you move the mouse over them. Click to choose the area you need, click Crop and everything else disappears. It's much faster than the usual manual cropping.
There's a neat "Blur Around" option, too. If you'd like to highlight a particular area -- a paragraph of text, say -- just select it, click "Blur Around", and everything around your selection will be blurred.
Unfortunately, the rest of the editor is basic in the extreme. You can add borders to a selection, add text or draw freehand lines, but that's all. There's no real configurability, no choice of font, no line width option. And this is a bitmap editor, so there's no selecting an object and tweaking it later: if there's a problem, the best you can do is click "Undo" and try again.
Click "Share" when you're done and the image is by default uploaded to Screen Courier's own site. A link is copied to the clipboard, and if you pass this to someone else they'll be able to take a look.
The program has some useful options and settings. If you don't need the editor, for example, you can have Screen Courier just automatically upload any captures right away. Sharing a capture of a window becomes as easy as pressing Alt+PrtSc, then pressing Ctrl+V to paste the link somewhere.
Interestingly, the Settings dialog also lists Dropbox and ImageShack.us as storage destinations. They're grayed out right now, but presumably will be supported in the near future.
Screen Courier clearly needs plenty of work. Especially the editor. It's easy to use, though, with some interesting features. And as it comes from developers who clearly know what we're doing, we think there's going to be a lot more to come.