Acer Aspire Switch 10 impressions -- Surface competitor?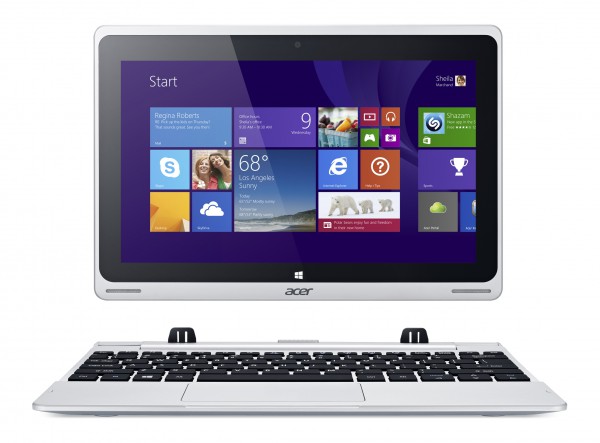 Today, Acer unveiled many nice products, but only one of them stood out as the best of show. Surprisingly, the device does not run Android or Chrome OS -- it runs Windows 8.1. Yes, a multi-mode 10.1-inch laptop/tablet hybrid running Microsoft's operating system was the stand-out.
As a Surface 2 owner, I have much respect for Windows 8.x as a tablet operating system. However, outside of the Surface line, 10-inch tablets have been disappointing to say the least. The Acer Aspire Switch 10 is the first Windows device that truly competes with the Surface. Hell, it may even be a Surface killer!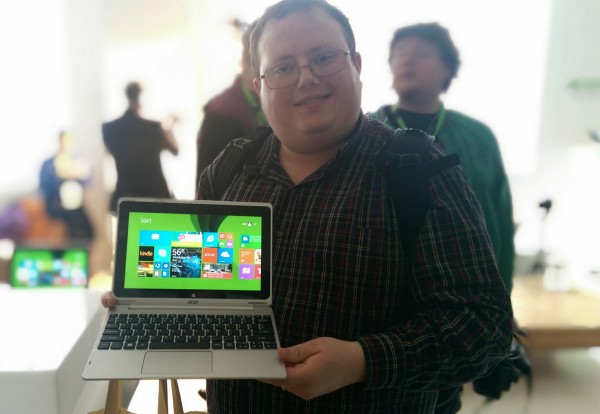 Notable Specs:
OS -- Windows 8.1
Screen -- 10.1 inch, HD 1366 x 768
Processor -- Intel AtomTM Z3745
Memory -- 2GB
Graphics -- Intel HD Graphics
Storage -- 32/64GB eMMC
Battery Life -- Up to 8 hrs
Impressions
The tablet itself is very light and felt great in my hand. It felt really solid -- not flimsy. What is really cool is the front-facing speakers. As someone who loves that feature on the HTC One M8, I often wonder why more devices do not have it. Kudos to Acer for being thoughtful with the product. Sadly, the room was so loud (it is a press event after all) that I could not test the quality -- that will have to wait.
Because it has an Atom processor, it runs full Windows -- not RT. This could be a formidable option for consumers that are considering the Surface Pro 2. In some usage cases, consumers buy the Pro for the x86 compatibility and not the speed. In other words, yes, the Surface Pro 2 would destroy this Acer in performance, but that may not be worth the cost to some.
One of the biggest selling points of the Surface tablets is actually an accessory -- the keyboard attachment. It essentially makes the tablet a laptop replacement. Unfortunately, both the touch and type keyboards are far from perfect. When typing on my Surface with the touch keyboard, I often wish for a normal one.
The Acer Aspire Switch 10 has a best-in-class normal keyboard. I spent the good part of an hour just typing random sentences on it, all the while with a smile on my face. It is built very well and sturdy. Apparently, you can even get a keyboard dock with a hard-drive built-in -- very cool.

Of course, let us not forget that this is a multi-mode device. This means it has four uses -- notebook, tablet, tent and display. While notebook and tablet modes are self-explanatory, the others are not. The tent mode allows it to be propped up like an upside-down V (Get it? Like a tent). This would be ideal for laying in bed and watching a movie. The display mode is not much different, you dock the tablet onto the keyboard in a backwards manner. This would be best in a meeting setting, where you want to turn the laptop towards a viewer. Still, it seems like the tent and reverse modes have shared usages.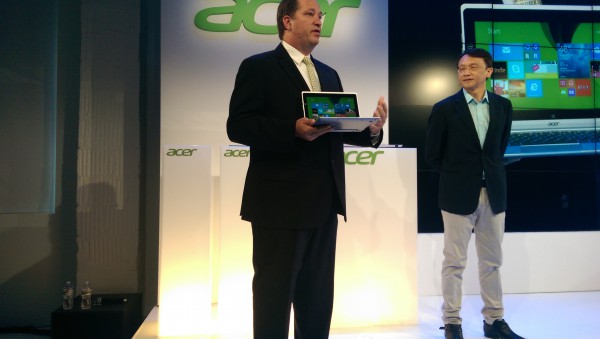 Overall, it is seemingly well-made and it is clear that the engineers and designers cared about it. It looks a bit like a Macbook Air and that's not a bad thing -- it looks very sexy as a result. While pricing hasn't been confirmed, this could very well be a worthy competitor to the Surface 2 and sometimes the Surface Pro 2.
Are you interested? Tell me in the comments.