Quickly erase text or images from your PDFs with PDF Eraser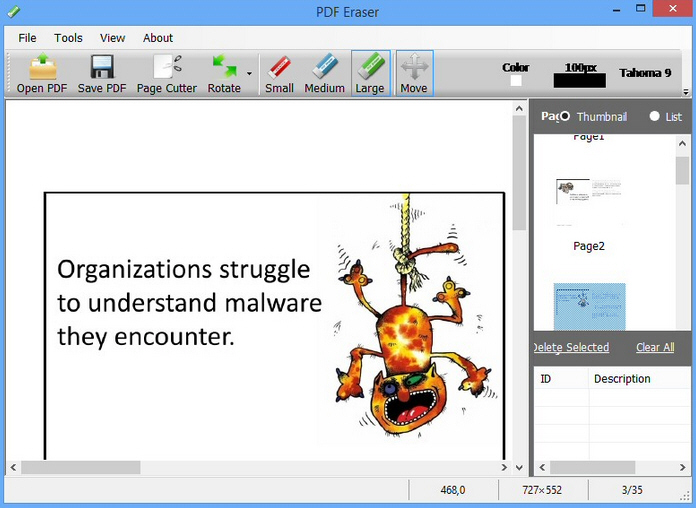 You have a PDF document you'd like to share with others -- but there's a problem. It has one or two objects which really should be removed: a logo, a phone number, a line of text, whatever it might be.
You could solve this by opening the document in a full-strength PDF editor, carefully editing it to suit your needs.
But if you don't have anything suitable to hand, you might prefer PDF Eraser, a simple tool which makes it easy to remove text or images from a PDF file, and add new content of your own.
Unusually, the program treats these operations much like an image editor. To remove text, you don't click in a paragraph and start hitting the Del key. Instead you just select an eraser tool, then click and drag it over whatever words you'd like to delete.
It's the same story with images. In a full PDF editor, you would be carry out operations on the whole picture: select it, maybe apply some tweaks, delete it, replace the image with something else. But here you just drag an eraser over the object to remove any unwanted areas.
This extremely basic approach does mean that your edits might be very obvious. Wipe a few words in a paragraph and the text won't reflow, for example, as you're not directly editing the content. There will just be a blank space.
PDF Eraser does make it easy to overwrite part of an image, though, which might otherwise be a tricky task. (And as you're able to choose the background color of the "eraser", turning it into more of a paint tool, any edits might not be quite so glaring.)
Elsewhere, there are options to add images or simple text boxes of your own, overlaying any existing document content. And you get bonus tools to rotate some or all of your document pages by 90 degree increments, or delete some pages entirely.
PDF Eraser isn't a "real" editor, then, but it does provide an easy way to selectively erase unwanted content. If that sounds useful, give it a try.