We are live at the Acer 'A Touch More Connected' event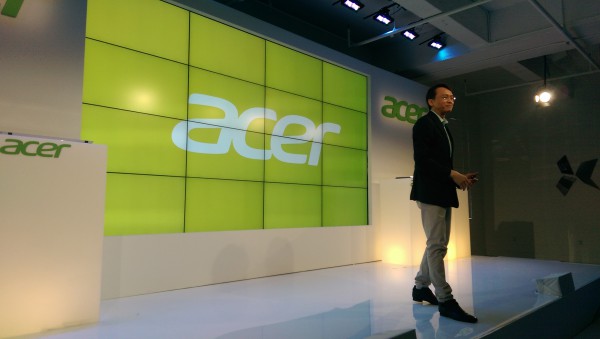 Today Acer is holding a large event, which is uncharacteristic of the company. Rumors are flying all over the place as to why. Will there be new Chromebooks? A Chrome tablet? New Android Devices? A wearable?
We will know soon enough. The event is called "A Touch More Connected" and will kick off at 10AM ET. I will be live-blogging from the front row. Stay tuned!
All updates will be in reverse chronological order (all times are EDT). The latest ones are first and first ones are last. You will need to hit the refresh button in order to see the newest updates.
10:45AM -- The announcement is over.
10:38AM -- A wearable!!!! Acer Liquid Leap. Activity tracking, messaging. Will be available end of July. Bracelet in black and red.
10:37AM -- Smartphone time! Acer Liquid Jade. Extremely premium-looking. No flat surface. No curves. 5-inch gorilla-glass display. Will launch end of July. Amazing.
10:36AM -- A surprise? Chromebook! Core i3 processor!
10:34AM -- New E-series laptops revealed -- multiple colors, AMD or Intel, touch or non-touch. 15, 14 and 11-inch variants
10:33AM -- Acer U5 all-in-one revealed. Beautifully thin Windows machine.
10:31AM -- New Android 7-inch tablets -- a bit underwhelming.
10:26 AM -- Acer showing a new product called "build your own cloud" and a new 4-in-1 Switch 10 laptop/tablet combo.
10:23AM -- Chen explains that many users still store important data on PC hard drives rather than cloud, keeping the user from their data when away from the PC.
10:18AM -- Jason Chen explains that the PC market is dying, so the company is looking elsewhere, such as mobile -- smartphone, tablet.
10:12AM -- A video is playing about how Acer focuses on education and helps schools through technology.
10:08AM -- No new products yet. CEO is talking about turning around the company by focusing on Strength and Opportunities.
9:58AM -- We are about to begin. Suspense is building.
9:52AM -- I've spotted the Chrome logo on at least one on-stage laptop.
9:45AM -- The stage is full of laptops and tablets, but no signs of a wearable.
9:41AM -- Kicked out of my seat for not being an executive. Still in front row, though.
9:20AM -- Trendy music playing