Record desktop activity as animated GIFs with Screen 2 Gif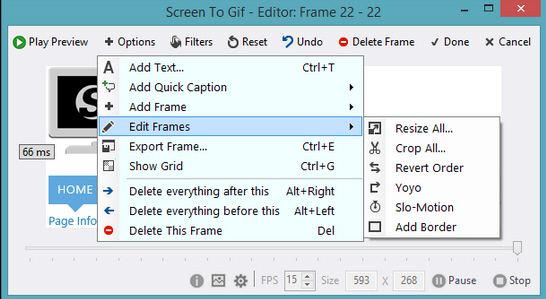 Screen to Gif is a free portable tool which allows you to record desktop activity, edit it, then share the results.
As you'll guess from the name, the program saves its recordings as animated GIFs, which means they're limited to 256 colors and can't include audio. That's just fine for simple animations, though -- software tutorials, problem reports -- and Screen to Gif has more than enough interesting extras to justify the download.
Setup is extremely easy. Launch Screen 2 Gif and it opens with a transparent frame which you must position and resize around the area you'd like to record. You might also want to set your animation frames per second, although the default 15 is probably enough.
Once you're ready, click Record (or press F7), then launch programs, open files or do whatever else you like, and Screen to Gif will record whatever happens within its frame. You can pause and resume this as required, with a click or a (customizable) hotkey.
Click Stop when you've finished and your recording appears in an editor. Your first steps here might be to trim it down to size, deleting unwanted sections from the start or end of the recording, and removing individual frames wherever you like.
You can then tweak what's left in a variety of ways, perhaps resizing or cropping your footage, slowing it down, inserting new frames, adding text captions, even applying a range of filters to one or all frames (Grayscale, Blur, Negative, Sepia).
Click Done when you're finished and Screen to Gif saves the results as an animated GIF, before offering to open the file for you. Unfortunately this final step will only be useful if your default GIF viewer plays animated GIFs; if that's not the case for you, right-click the new file in Explorer, and select Open With > Internet Explorer.
We've covered similar programs before. GifCam in particular is just as easy to set up, and has more export options, including various color reduction tools and the ability to save your recordings as AVI videos.
If you're happy with animated GIFs, though, Screen to Gif is a much better tool, with many more editing options and a far more usable interface. Go grab your copy immediately.