Griffin releases Wired Keyboard for iOS Devices -- wireless is so passé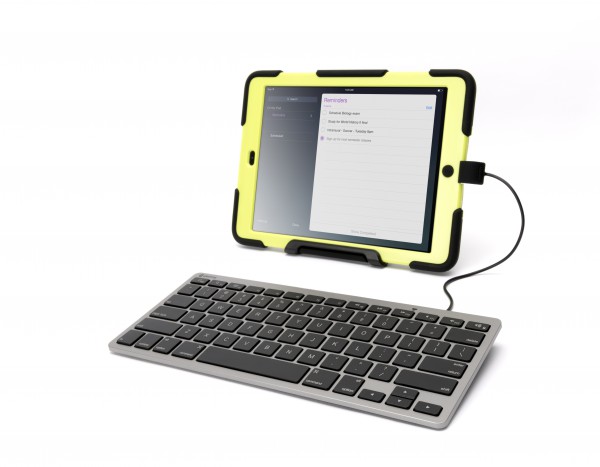 It seems that lately, consumers prefer wireless for everything. Sure, wires may look old-school, but I like them. My wired keyboards and mice never run out of juice or have connectivity issues. As great as WiFi is, whenever possible, I try to use ethernet cable too. Despite what some recent DirecTV commercials say, wires are not ugly!
When I use my iPad for creation, I typically use a Bluetooth keyboard with great results. However, the battery on it must be charged, and most of them utilize microUSB. And so, I must remember to pack an extra cable when traveling just in case. Today, accessory-giant Griffin releases the Wired Keyboard for iOS Devices and I am intrigued. Yes, you actually plug a wire into an iPhone, iPad or iPod Touch.
"Featuring the familiar layout and feel of a full-size keyboard, Griffin''s Wired Keyboard offers full iOS key functions and tactile feedback with the added advantage of a cord that makes connection quick and easy in any setting. The Wired Keyboard is offered in 30-pin or Lightning versions and is the perfect hassle-free, secure solution for students, teachers and professionals. Users simply connect the keyboard to their iPad, iPhone or iPod touch, and instantly their devices get the full-featured keyboard they crave", says Griffin.
The manufacturer further explains, "created specifically with school environments in mind, the Wired Keyboard helps instructors avoid challenges that inevitably occur when pairing several iPads with several Bluetooth keyboards. Since there is never a need to change batteries, recharge the keyboard or go through a Bluetooth pairing process, teachers can focus on lessons rather than spending time troubleshooting connection issues".

Even though the keyboard is aimed at schools, it should work wonderfully for other uses too. I envision myself propping up my iPad Air using the official Apple case, and plugging in this keyboard when needed -- a great tool to keep in a backpack.
If you are interested, you can buy it for $59.99 here.