Going after market share, Axosoft makes its bug-tracker virtually free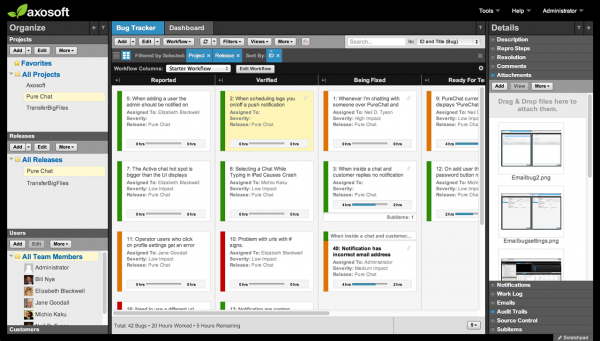 Cost is often a powerful driver in the battle for market domination. Expensive products while, arguably, extremely capable for the money, may account for a smaller piece of the pie as opposed to free, powerful alternatives which often take the lion's share. For buyers, especially those with tight budgets, diminishing spendings to maximize profits comes naturally, so they tend to favor the latter. The way to go, to capture more market share, is not to compete on the same pricing level, but to make things cheaper so they appeal to more potential customers.
This is the path that Arizona-based software company Axosoft has taken with its bug tracker. Previously costing $70 per user per year, it can now be purchased for a mere $1 per year, no matter the number of users. It is basically free. "We know, it's pretty hard to believe, but we've decided to go after market share which is why we are doing this", says Axosoft CEO Hamid Shojaee.
In the bug tracker landscape, Axosoft's offering goes up against Atlassian's Jira (which starts at $10 per user per month for the on-demand package, and $10 for the starter one), Bugzilla (free), Fog Creek's FogBugz (which starts at $18 per month) and other such tools.
The $1 Axosoft asks for the bug tracker is actually meant as "barrier to entry" so Axosoft can ensure it will not "get millions of junk accounts using up a bunch of resources". The little revenue the company gets from the bug tracker is "kept separate", according to Shojaee, as the money goes into the Axosoft Startup Grant, a scholarship designed for software startups.
I asked if the price will increase, once the market share reaches the anticipated level. "We have no plans to increase the price of the Bug Tracker", says Shojaee. "Essentially, we expect it to remain free ($1)".
Shojaee tells me this pricing change will have a negative impact on Axosoft's short-term revenues. But the expectation is that through a rise in the market share of its bug tracker the remaining products in its portfolio will get a boost from the increased exposure the company gets, making way for more sales. "The revenue opportunity for us is if dev teams are impressed by Axosoft Bug Tracker enough to add one of our other products, such as Axosoft Scrum, HelpDesk or Wiki".
It is a risky strategy, but one which Shojaee is confident in, aided by the claim that Axosoft is already a "profitable company" and its suite is used by leading tech companies such as Intel and Cisco as well as others like Disney and Nike. In the scrum software landscape, Axosoft Scrum is touted to lead the pack as the best-selling offering. We will have to wait and see if the new pricing strategy can skyrocket its bug tracker into a similar position.