Sony unveils Cyber-shot DSC RX100 III with EVF, fast zoom in tow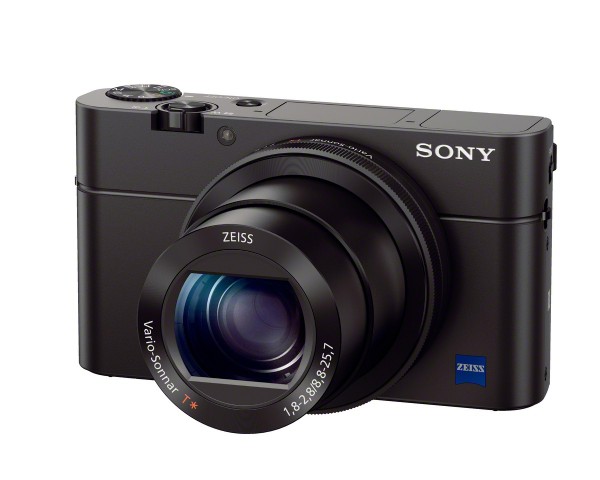 For quite a lot of people taking a photograph simply means pointing the camera at the subject followed by a quick press of the shutter button to take the picture. It is a concept best known as point and shoot, due to the simplicity of the actions. There are lots of cameras that cater to the needs of this audience, ranging from cheap devices that can be found in supermarkets (the I-need-a-camera-right-away type) to high-end compacts. The main difference between the two extremes is image quality (build quality, support and others are also better in the latter).
Sony's RX100 is renowned as one of the best high-end compact camera lines, appreciated even by some professionals (the RAW format support being one of the main reasons why). The latest member in the family, the new Cyber-shot DSC RX100 III, takes things further by adding an electronic viewfinder (EVF) and a fast zoom lens (F1.8 at its widest end -- 24 mm equivalent -- to F2.8 on the short telephoto side -- 70 mm equivalent), compared to its older brethren.
While EVFs are not exactly out of this world, the RX100 III's EVF is a bit more special than most as it neither sits on top of the camera nor is it offered as an attachable piece. It is a pop-up unit, which can be triggered through a toggle mounted on the side of the RX 100 III. Personally, I prefer to shoot like this over using the back LCD. The EVF offers 100 percent coverage, like the most-expensive DSLRs, and a magnification ratio of 0.59.
Speaking of the LCD, it is a 3-inch unit with 1.2M dots that can tilt upwards by up to 180 degrees. Sony says this angle is good for "self-portraits" (at least it is not using the word "selfies"). It can also go downwards by 45 degrees, which will help with more difficult compositions.
The RX100 III features a 1-inch 21 MP sensor (13.2 by 8.8 mm) of which only 20 MP are used, a Bionz X processor (that is found in the high-end A7 full-frame mirrorless line), 25 focus points, an ISO range of 125 to 12,800, optical image stabilization (which should help reduce blurry photos), RAW and JPEG support, an autofocus assist lamp, 1/2000s maximum shutter speed, built-in flash, 10 FPS burst rate, 1080p video recording at 60 FPS and 720p video recording and 120 FPS, clean HDMI out, Wi-Fi 802.11 a/b/g/n and a battery rated at 320 shots.
The RX100 III measures 101.6 x 58.1 x 41 mm and weighs 290 grams (with battery and Memory Stick Duo card), which makes it quite pocketable. It will be available, starting in June, for $800.