PQChat secures your communications using quantum computing-proof encryption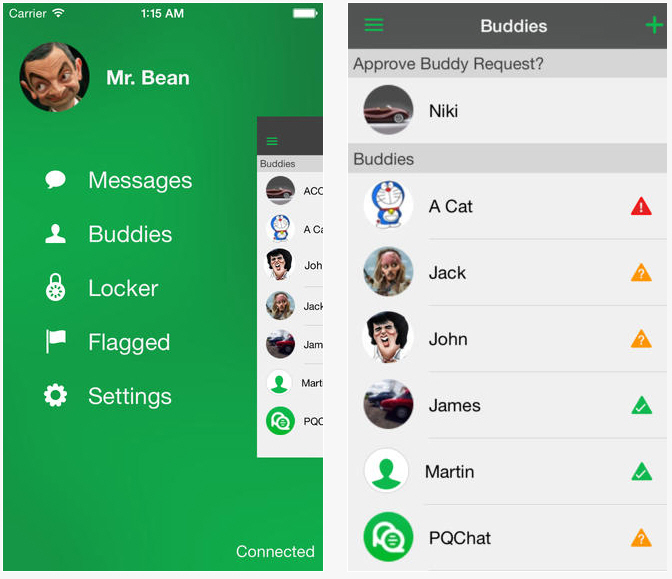 After Edward Snowden's many (and on-going) revelations, it's easy to think there's not much you can really do to avoid being spied upon or prevent your communications potentially being monitored. Of course you probably don't have much to hide, and therefore what you say isn't likely to be of major interest to the NSA or other snoopers, but that doesn't mean you shouldn't at least try to maintain a degree of privacy where possible.
SRD Wireless has today announced the launch of PQChat, a free app for iOS based on SRD's own Never-The-Same (NTS) encryption which protects data using the McEliece cryptosystem, the strongest currently known, and which has never been broken (as far as anyone is aware, at least).
PQChat lets users share and delete encrypted messages, voice, video and images, and the application doesn't store personal information either.
"The ongoing Snowden revelations have brought home just how easily accessible our personal information is to the NSA or other groups. Yet most people are still handing over information to data miners, spammers and criminals without understanding what they are doing," says Andersen Cheng, Co-founder and CEO of SRD Wireless. "People need to take back control of their data: even the smallest amount of personal information can compromise your privacy and security. Modern communication tools simply aren't built with this as a priority and so make compromises in order to allow communication. Our aim with PQChat is to place end-to-end security at the heart of the application".
The app boasts the following features:
Minimal user information: PQChat only stores a one-way encrypted value of the user's phone number, which cannot be reconstructed, plus an encrypted user-supplied nickname and pseudo ID image; making the user's identity impossible to determine.
User-defined passwords: PQChat allows users to set their own Master Password to sign up to the service, as well as a 5-digit alphanumeric PIN. PQChat does not even store the Master Password in the app, meaning that users have complete control over their own security.
Video and Voice authentication: To ensure a message recipient is who they claim to be, PQChat uses SRD's patented Man At The End (MATE) authentication. By providing a video and audio authentication message, users can be certain of each other's identity.
Locker: To guarantee that important information isn't lost, PQChat includes a secure locker where users can store information that they want to guarantee it is kept safe and private.
Complete control over messages: As well as sending, users can remotely delete messages, whether manually or after a particular length of time. Users can also be sent an acknowledgment to provide a guarantee that crucial messages have been seen and read.
"Even if an application or service claims to be secure, the data it holds still represents a risk," continues Cheng. "For example, if an application stores personal details then a security breach can put all users at risk. Apart from having zero knowledge of any message contents, SRD Wireless vows not to obtain, store or share any personal details or password information from PQChat users: it is our belief that ultimately your security should be in your hands, not ours. Since SRD's business model is based around selling solutions to enterprises rather than data mining, there is no need for us to hold any of this information. Quite simply, if we cannot guarantee this trust between us and our users, then all of our claims about the security of PQChat itself are worthless".
PQChat is available immediately in the Apple App Store, with an Android version due to launch shortly.