Activehours for iOS and Android lets you get your money when you need it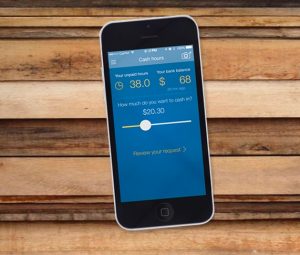 As a trained Sociologist, I am always analyzing my surroundings. One of my particular interests is the plight of the working poor. It breaks my heart to see people toil away for low pay, while struggling to pay bills. Even sadder, these hard-working people are often taken advantage of by "pay-day" lenders -- they offer an extremely high-interest loan which targets the poor who cannot make ends meet.
Luckily, technology can be developed to solve many of the world's problems, including the pains of the workers living paycheck to paycheck. Yes, a new app for Android and iOS, called Activehours, is aiming to solve this problem.
"Today, Activehours launches a game-changing solution that lets the more than 75 million hourly workers in the US unlock their pay. With the Activehours mobile app, available on iOS and Android devices, hourly workers can access their pay as soon as they earn it, without having to wait for payday", says the company.
The company further explains how it works: "workers upload their timesheet with the Activehours mobile app, and can withdraw what they have already earned to date, giving them the flexibility needed to avoid late fees on bills, buy groceries or take their significant other on a date. With no fees and no interest, users pay Activehours what they think is fair".
Ram Palaniappan, Activehours founder says, "every year, more than $1 trillion of hourly pay is held back for two weeks because of the way pay cycles work today. Yet, more than half of hourly workers in the US live paycheck- to-paycheck or borrow money to stay afloat[...]If you work everyday, why can't you get your pay every day?"
According to Activehours, some hourly workers are forgoing visits to the doctor and dentist to make ends meet. This is a travesty -- all people deserve health care and compassion, regardless of financial status. If this app can make a difference for even one family, that would be a win.
If you want to try it, you can download the app for iOS here and Android here.