German gamers get Nazi-free version of Wolfenstein: The New Order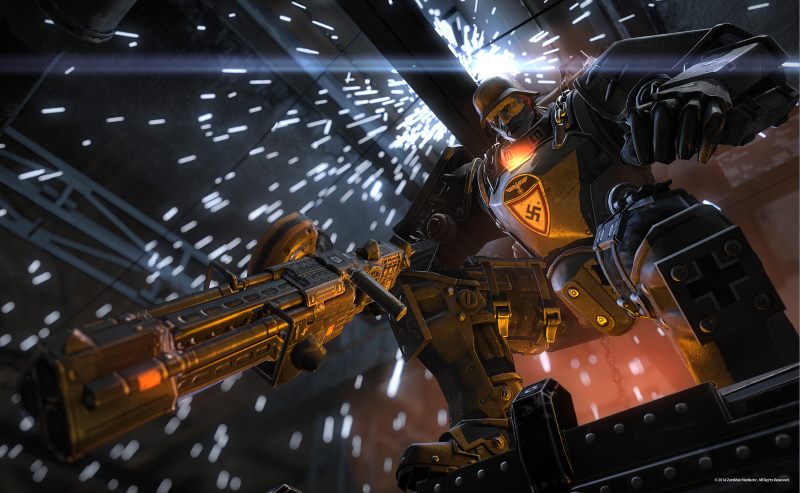 Germany and Nazism have history; one doesn't have to be much of a history buff to know that. But the aftershocks of Hitler's Germany are still being felt; the country is still rather sensitive, shall we say, about the whole idea of the Nazis. So touchy, in fact, that as part of post-World War Two denazification the display of Nazi symbols (or "use of symbols of unconstitutional organizations") is illegal. This presents an issue for the game Wolfenstein which concerns itself largely with escaping from Nazis, killing Nazis, tracking down Nazis... there are lots of Nazis involved. Ultimately this meant that the popular game series was banned from Germany since it was first conceived back in the early 80s.
The latest installment in the series, Wolfenstein: The New Order, is set in the 1960s after a Second World War won by the Nazis. But this time around the game got a German release -- yesterday in fact. Bethesda's Pete Hines said last month that Germany has "a thing about Nazis", describing the country as "a little touchy" about the subject. So how was the release possible? This is not because the country has relaxed its laws -- the display of Nazi-related material can still result in a three year jail term -- but because the game has been censored.
Germany is getting a version of Wolfenstein: The New Order which is different to that released in any other part of the world (apart from Austria which is subject to similar censorship). Hines said: "In Germany, we've removed all Nazi symbols and references. Unlike films and other works of art, video games in Germany are forbidden to use such symbols and references as they are classified in Germany as toys and not media art".
Copies of the game are "geo-locked" meaning that uncensored versions of the PC game could not be used in Germany or Austria. Such is the censorship that the Nazis -- so central to the very idea of Wolfenstein -- simply do not exist, morphing instead into The Regime. Censorship may be rife, but Bethesda has some heartening words for oppressed gamers: "the levels of violence and action remain the same as in the international version". Well, that's good to know isn't it?