LibreOffice 4.3 Beta available to try, improves Start Center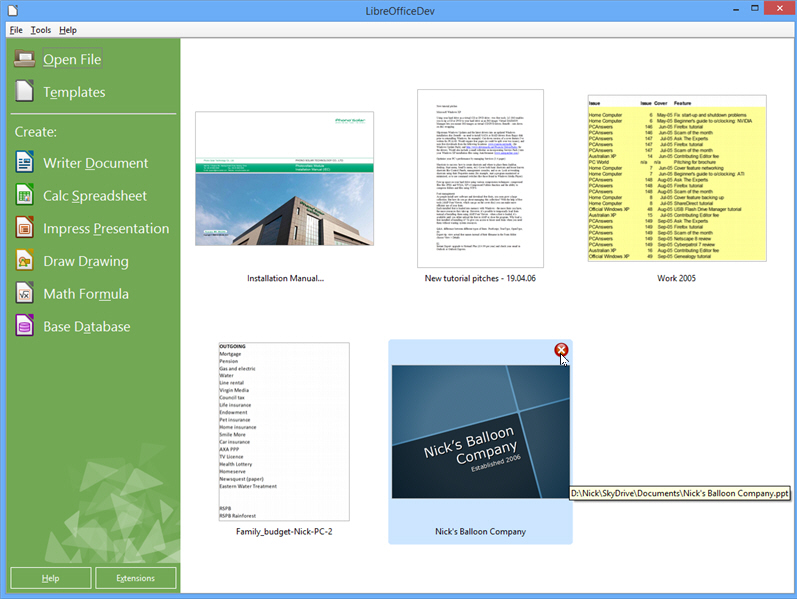 The Document Foundation has unveiled the first public beta of the forthcoming LibreOffice 4.3. The new 4.3 release branch sees some notable user-interface tweaks, performance enhancements and a number of new and tweaked features.
The word processor Writer is the beneficiary of most changes in this next release, while users should also enjoy better quality imports of PDF files.
The first visible improvements can be found in LibreOffice's Start Center. From this new release, the Start Center now offers previews of all file types, not just OpenOffice's own native ODF format. Users can now also selectively delete recent documents by rolling their mouse over a document and clicking the delete button that appears.
Another user-interface tweak sees the default Tango icon set get a general update that includes the addition of new icons for the sidebar.
The PDF import filter has been significantly improved with this release -- enhancements include improved display and editing of rotated text, correctly detected colours and whitespace and support for dashes. OOXML format support has also been improved, with initial support for OOXML Strict implemented.
Writer users gain a number of improvements in LibreOffice 4.3. The character limit in paragraphs has been raised from 16-bit (65,535 characters) to 32-bit (over two billion characters). The navigation buttons have also been moved from below the scrollbar to the Find bar.
Users can now increase and decrease the font size on drawing objects, while a new filter allows the drawingML-based DOCX files to be both imported and exported.
LibreOffice 4.3 now supports the import and export of nested comments in ODF, DOC, DOCX and RTF files, while users can now opt to reformat all the comments in a document simultaneously.
Images are now scaled proportionally by default (hold [Shift] to freely resize an object). Writer also now displays non-printing characters in light blue, and gives users the ability to print comments left in the margins of documents. The relative text frame anchoring tool now supports multiple relations.
Calc users will now see improvements to the border highlighting tool while selected cells now display the number of rows and columns in the status bar.
Calc's formula engine also gains a number of improvements for better interoperability with Excel documents.
Impress and Draw no longer include hidden pages when displaying the number of pages, while a "Fit slide to window" button has been added to the statusbar. It is also now possible to distinguish between selected and unselected sliders when the mouse over highlight is activated.
Finally, LibreOffice boasts improved performance when sorting large data sets and importing OOXML documents with lots of relations. For a complete rundown of the extensive changes coming in OpenOffice 4.3, please click here.
LibreOffice Productivity Suite 4.3.0 Beta is available now as a free, open-source download for Windows, Mac and Linux. Also available are LibreOffice 4.2.4 FINAL and -- for Windows users only -- LibreOffice Portable 4.2.4.