Track file changes in real time with Moo0 File Monitor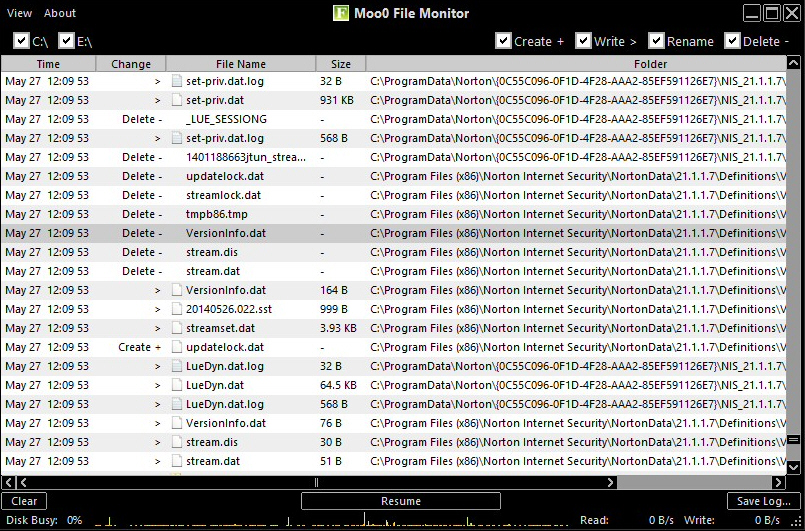 Your PC's hard drive is buzzing with activity, and you're not sure why. Could it be a virus? An application? Just a part of Windows? Moo0 File Monitor could help you find out.
Download and launch the program (there's no installation required) and it goes to work immediately, detecting any modification to your hard drive and displaying its details: the date and time, change type (Create, Write, Rename or Delete), and the file name, size and path.
If there really is a lot of activity then the log may scroll quicker than you'd like, but there are ways to fight back. Simple filters enable you to view only particular activities on certain drives -- files created on drive C:, for example -- and so ignoring any details you don't need.
You can also stop and restart data logging with a click, clear the log, or save it as an HTML report for reference later.
Useful settings include a Refresh option, where you can have the screen update less frequently (you won't miss any events, but at least you'll have a chance to scan one set before the log starts scrolling again). And the Moo0 File Monitor window can be set to remain "always on top" of everything else, for easier viewing.
This type of drive monitoring has its limitations. The activities you'll see will often mean nothing at all -- just writes to cryptically-named files in your temporary folders -- and the program can't tell you which process was responsible, either. To really understand what's happening on your system there's still no substitute for Process Monitor.
Moo0 File Monitor is simple, lightweight and easy-to-use, though, with a well-designed interface and some welcome configuration options. If you're just looking for a quick way to find out more about background PC activities then it should be a good choice.