VirusTotal Uploader for OS X arrives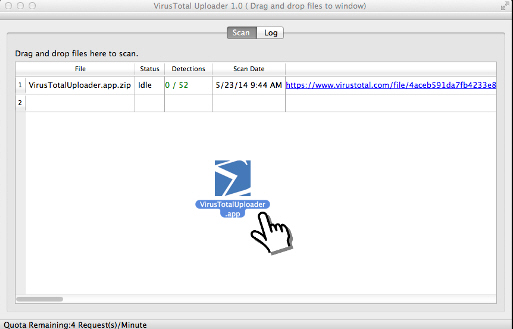 VirusTotal has released its first VirusTotal Uploader for OS X, a simple tool which scans a file, folder or application for malware with 50+ antivirus engines.
Using VirusTotal Uploader for OS X can be as easy as dragging and dropping a file onto the program window. It's uploaded, there's a delay while the site checks your file with all the main antivirus engines, and finally a "Detections" figure gives you the results ("0/53", hopefully).
No further details are displayed within the Uploader, but if you need to know more -- maybe there are three or four alerts and you'd like to which engines are involved -- then a web link will take you to the full report.
You can alternatively drag and drop an application onto the program, or an entire folder. But keep in mind that, even though VirusTotal Uploader for OS X is an "official" tool, it's still built using the site's public API. That imposes various limitations, such as only being able to run four queries a minute, so this isn't something which can practically scan your whole computer.
Even now, we still experienced one or two odd delays and issues when running bulk checks. We're not sure why, but if you notice anything similar then clicking "Log" displays the low-level details of everything you've been doing recently (we saw a few "error fetching report" messages, for instance).
VirusTotal Uploader for OS X worked perfectly when scanning individual files, though, which is how we would use it most of the time. On balance it provides a simple and straightforward way to access VirusTotal's services, and is well worth the download.