Cambridge Audio Minx M5 -- small speakers with a big sound [Review]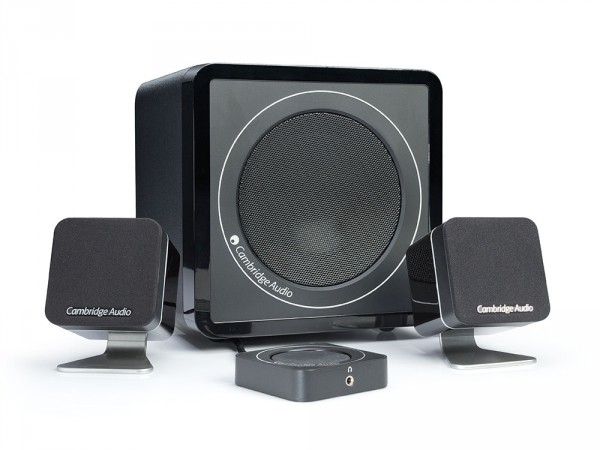 Listening to music on a computer can be a very rewarding experience nowadays. However, we aren't far removed from the days where laptops and desktops shipped with horrible speakers. This shouldn't be surprising though; while mp3 and streaming audio is commonplace now, listening to music was not always expected on a computer. Tinny-sounding, rattling speakers were OK for midi files, but now we expect much more.
While Bluetooth speakers are very convenient, their sound quality usually does not match a hard-wired set. My favorites for many years are the Logitech Z-2300 -- a 2.1 setup, which are THX certified and pack a 120 watt subwoofer. I still own these speakers, but they are extremely bass-heavy, even with the bass knob turned down to the lowest setting. They can be overly disruptive to the other people in my home, as the walls shake. For a party, they are great, but for everyday use I need something more tame. Today, I am looking at the Cambridge Audio Minx M5 in hopes that I have found that.
The Minx M5 is a 2.1 speaker setup. This means that there are two satellite speakers and a subwoofer. I prefer 2.1 for listening to music as it separates the bass. Not to mention, I usually listen to music rather than watch movies. I am not into the 5.1 or 7.1 gimmicky nonsense, or faux-surround.
What makes the M5 very intriguing is that it has an integrated USB DAC. This means that it can bypass your onboard stereo, and connect directly over USB. This prevents interference from the motherboard and other components. Don't worry though, if you already have a high-end sound card or USB DAC, you can connect the M5 by 3.5mm too.
Drive units:
Satellites: 1 x 50mm (2'') driver per satellite
Subwoofer: 1 x 135mm (5.25'') woofer
Connectivity:
USB port
3.5mm aux input
3.5mm headphone output
Power output:
Satellites: 2 x 15W
Subwoofer: 30W
Input voltage:
110–120V or 220-240V versions (depending on market)
Standby power consumption:
<0.5W
Frequency response:
45Hz – 20kHz
Dimensions (W x H x D)
Satellites: 72.5 x 72.5 x 73.8mm (2.9 x 2.9 x 2.91 inches)
Subwoofer: 200 x 200 x 204.5mm (7.9 x 7.9 x 8.1 inches)
Weight
Satellites: 435g (0.96lbs) each
Subwoofer: 4.4kg (9.7lbs)
Whether using 3.5mm or USB, the speakers are controlled by a breakout box that features a clickable scroll wheel. There is beauty and convenience in the simplicity of this control unit. You see, to turn the volume up or down, you turn the wheel. To turn the speakers on or off, you click the wheel. That's it. Not only is it easy and mindless, it is attractive as well.
Yes, looks matter for many of us. Luckily, the M5 succeeds in this regard. The two satellite speakers are extremely compact cubes. These speakers can fit nicely next to any monitor and should look good too. They can sit on their own, but in the box are small stands that elevate them slightly and tilt them upwards to the user. It's up to you whether or not to use the stands, but I recommend it as the audio is better positioned at you.
These little speakers are powered by a very tiny subwoofer that sits under your desk. It is smaller than you would expect, which is ideal as it can be tucked away and be unobtrusive. The rear of the subwoofer features a knob to turn up or turn down the level of bass.
While the speakers are well designed and beautiful, the real question remains -- how do they sound? I am happy to say that they are fabulous. The satellite speakers produce crisp and clean highs, with excellent stereo separation and clarity. The subwoofer can put out a lot of bass if you want, but more importantly, they can do less of it too. In other words, the bass knob empowers me to choose a wall-shaking amount or non-existent level -- finally, a company gets it right. These are the speakers I have been searching for.
While the speakers are small, do not let that fool you. They can get very loud and the good thing is, don't distort at higher levels. They are entirely capable of filing a large room. Quite frankly, the Minx 5 paired with a laptop could easily handle a party.
I tested the USB connection on Linux, OS X and Windows and it worked wonderfully. No drivers are needed, it is picked up natively as a USB soundcard. The control unit does not overtake the system's native volume controls either. You can use both simultaneously. In other words, if you'd rather use your keyboard shortcuts to turn volume up and down, go for it.
It's important to mention that headphone users can benefit from this too. The front of the control unit features a 3.5mm headphone output for easy connection. Other than convenience, this may improve the sound experience when the unit is connected by USB. It is exactly like connecting headphones to a USB DAC.
Sadly, there is one negative that must be mentioned. When clicking the scroll wheel to turn them off, there is a slight audible pop or click. Certainly not a deal-breaker -- it is more of an annoyance if anything.
Overall though, that annoyance aside, the Cambridge Audio Minx M5 sounds and looks amazing. It complements both my desk and life wonderfully. Whether listening to folk music, hip-hop, dubstep or any genre, I was satisfied. Even when watching movies, the subwoofer delivered some room-shaking deep sound that added to the immersion.
While some people will be hesitant to spend $229 on computer speakers, please remember that you get what you pay for. The fact that this is speakers and a USB DAC makes it a perfectly reasonable price. While many computer accessories you buy can become obsolete, speakers will not -- you can move them to future computers that you build or buy. If you average the cost over the many years you may own them, it is insignificant.
The Cambridge Audio Minx M5 speakers are highly recommended.