Samsung unveils the 845DC EVO -- an SSD built for data centers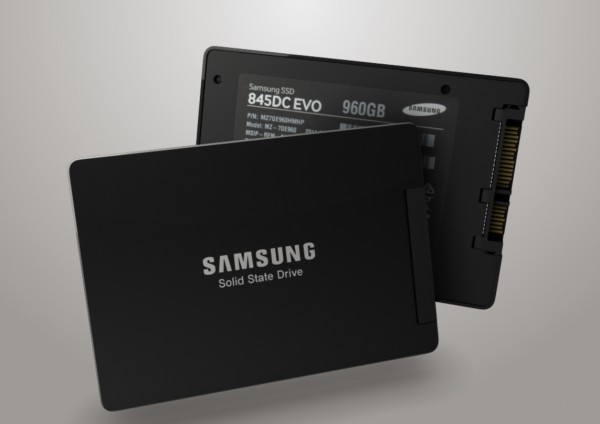 Solid State Drives (SSD) are all the rage nowadays and for good reason. They are very much faster than their HDD counterparts and use less energy too. However, the benefits come at a cost -- higher prices per gigabyte and smaller storage sizes. Plus, SSDs are relatively unproven for longevity. Over time, they lose speed and, even worse, can potentially fail faster than a HDD.
It is for those reasons that historically SSDs are not widely used in data centers. Instead, HDDs still reign supreme for their lower cost and perceived life span. Samsung is aiming to change this, with the all-new 845DC EVO -- a SSD that the company hopes can supercharge data centers.
"The Samsung 845DC EVO has been designed and built for sustained performance, low latency and high endurance in read-intensive data center applications, such as video/content streaming, application and web servers. Utilizing Samsung's advanced 10-nanometer class 3-bit NAND flash memory, the firmware and controller of the Samsung 845DC EVO are based on the Samsung PM853T SSD, which has been tested and qualified for system compatibility by leading server system manufacturers. The 845DC EVO SSD is ideal for small and medium business system integration and data center use, while the PM853T provides a customized solution for OEM server manufacturers and large data centers", says Samsung.
Unsoo Kim, SVP at Samsung Electronics explains "as connected devices are accessing more and more online information, data center managers are looking to SSD technology as an effective tool to help improve the speed of serving data to all these users, while enhancing investment efficiency over a shorter period of time. The Samsung 845DC EVO SSD lineup addresses this need by delivering an optimized solution which combines low-latency with low-energy use for data centers".
These new SSDs will be available later this month in 240GB, 480GB and 960GB sizes with read speeds up to 530MB/s. Price is not yet revealed, but these will likely be expensive when compared against home-grade SSDs. However, the speed increase and energy savings that a data center may see could make it a valuable investment for the long term. Depending on the price, home users may be interested in the proclaimed reliability of the drive if their data is important and they are willing to pay to play.