Samsung's new Galaxy W is more like a tablet than phablet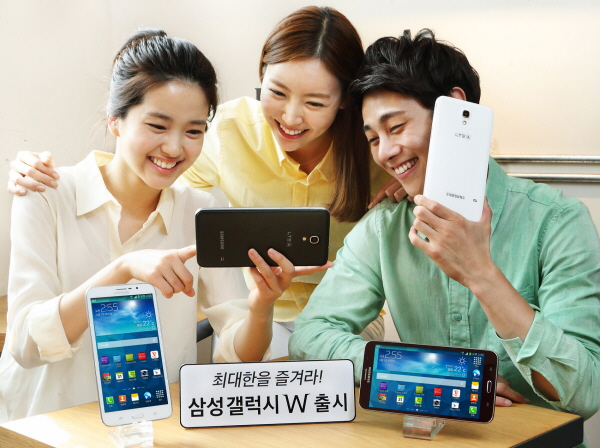 Samsung is pushing the size boundaries of phablets with a new device it unveiled today, called Galaxy W. The handset rivals small tablets, like the Google Nexus 7, in the display department, yet has the necessary hardware to work as a phone. Is it still a phablet though?
Thanks to devices like the Galaxy W, phablets and small tablets are two categories that clearly overlap when it comes to display size, and since there is no clear distinction between the two, other than, perhaps, the ability to make phone calls, it is difficult to define what the Galaxy W exactly is. But, before you go about answering that question, look at the marketing image Samsung provides for the Galaxy W. Next to one's ear it looks almost as big as that person's head. It seems to look far more natural in the hand, as a tablet.
Because of its size, the Galaxy W, to me, is more of a tablet than phablet. It measures 191.8 x 99.6 x 8.8 mm and weighs 245 grams. Granted, it is not as heavy as the Nexus 7 (which comes in at 54 grams heavier, in the 4G LTE trim), but it gets close to its footprint -- 200 x 114 x 8.65 mm, which is close enough considering the latter's thick bezels. Samsung clearly made an effort to minimize the Galaxy W's bulk by employing slim bezels on the side, so the device can actually be held with one hand.
The specs of the Galaxy W include: 7-inch display with a resolution of 720 by 1280; 1.2 GHz quad-core processor; 1.5 GB of RAM; 3,200 mAh battery; 8 MP back-facing camera; 2 MP front-facing camera; 16 GB of internal storage; microSD card slot; 4G LTE Advanced cellular connectivity; Android 4.3 Jelly Bean. Available colors include black, red and white.
The Galaxy W looks to be a South Korea-only affair at the moment, as it was only unveiled in Samsung's home country at the time of writing this article. I would not be surprised to see it reach other markets in the foreseeable future, as phablets are increasingly popular products nowadays, especially among those who cannot afford to buy or or do not want to carry both a phone and a tablet.