Online television watching reaches all-time high -- iOS apps surpass web browsers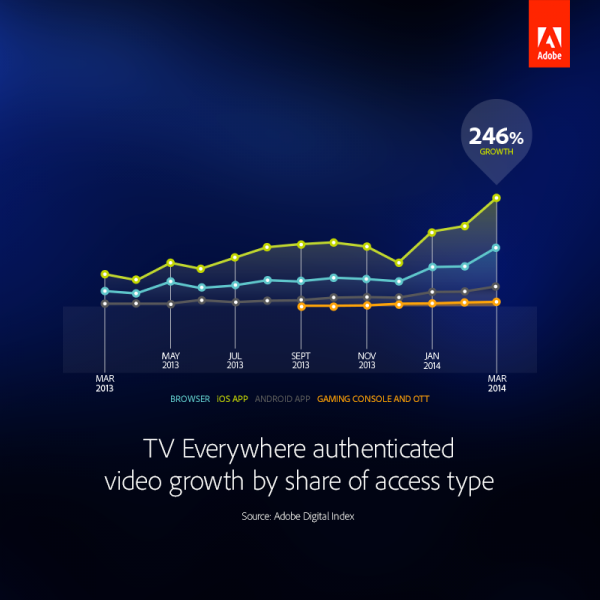 Over the years, many have predicted television's demise, because of competition from the internet. However, it seems that the opposite is happening -- TV is more popular than ever thanks to an increase in quality programming. Shows such as Game of Thrones and Bates Motel have viewers tuning in and on the edge of their seats.
It turns out that the internet is actually complementing television, as more and more people choose to consume TV on the web. According to Adobe, online viewing is up 246 percent year-over-year -- that is a shocking figure. However, this is not just people staring at desktops and laptops, but utilizing game consoles and mobile apps too.
"We've said it before, but the days of watching TV on a television in the living room are long gone. To meet rapidly evolving consumer expectations for the TV content they want, the TV industry is finding new ways to bring their content to whatever screen audiences want to watch. Given the deluge of connected devices from tablets and smartphones to game consoles and over-the-top (OTT) devices, easy access to content is taking TV Everywhere consumption to new heights", says Campbell Foster, Adobe.
Foster further explains, "today, we released our Q1 2014 U.S. Video Benchmark Report which examines TV Everywhere and non-authenticated online video trends. The findings were staggering with online TV consumption reaching an all-time high -- up 246 percent year-over-year (YoY). Our analysis is based on aggregated and anonymous data from 1300+ media/entertainment sites between Q1 2013 and Q1 2014. It includes 151 billion total online video starts and 1.3 billion TV Everywhere authentications across 250 pay-TV service providers covering 99 percent of pay-TV households in the US".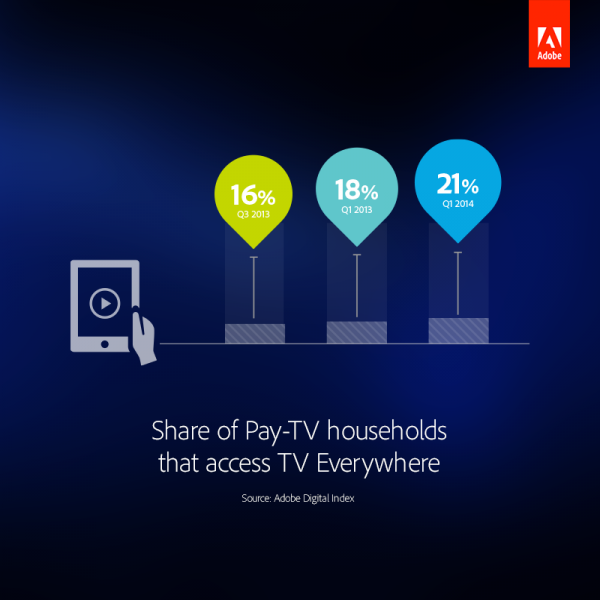 The company lists these interesting facts:
Game consoles and OTT devices saw the strongest market share growth increasing 539 percent YoY.
iOS apps surpassed browsers for the first time as the most popular access point for online TV achieving a 43 percent market share (compared to a 36 percent market share for browsers)
More US pay-TV households (21 percent) accessed TV Everywhere content across devices in Q1 than ever before (compared to 16 percent six months ago)
Unique TV Everywhere visitors to websites and apps per month increased by 157 percent YoY, while the number of TV Everywhere streams (live, VOD and linear) watched per visitor each month rose 133 percent YoY.
Using a sample size of 1300+ Adobe Marketing Cloud customers, 35.6 billion online videos including user-generated content were viewed worldwide -- an unprecedented amount, up 43 percent YoY.
While the internet is complementing television now, there is no guarantee that the love affair will last. As more and more people watch online, eventually TV producers will wonder why they need to work for a network rather than distribute the content themselves on the web. The cord-cutter movement will likely accelerate this process too. Either way, TV watchers are being treated to some of the best content ever; whether they watch it in their living rooms or on an iPad in the bathroom, it's still a great experience.
You can read the full report here (PDF).
Do you watch TV shows online? Which shows do you watch and on what platform do you watch them? Tell me in the comments.