Move and copy files more easily with MyFolders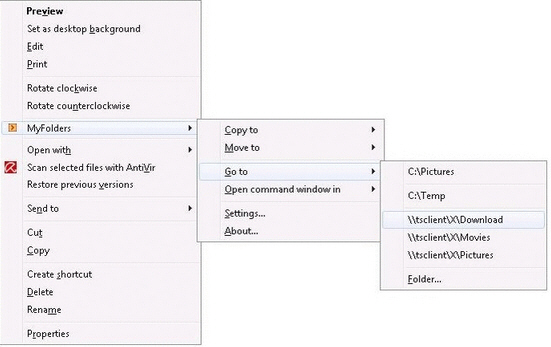 MyFolders is a free Windows shell extension which makes it easier to copy or move files to any folder, or to open common folders in a couple of clicks.
The program installs quickly and easily. There's no obvious interface, so to see how it works, select a file in Explorer, right-click and choose the new MyFolders menu.
The first options are "Copy to" and "Move to". Select either of these and another menu appear with two folders (Desktop, and Documents). Choose a destination and your files are copied/moved there: very easy.
You'll probably want more than these two folders in your permanent destination list, of course, and a Settings dialog enables you to add anything else you use regularly.
The MyFolders menu also has a "Goto" option, which works much like the others. Right-click a folder (or an empty part of the desktop), select MyFolders > Goto, choose a folder in the list and it'll open in Explorer.
The final entry is "Open Command Window in…". Right-click a folder, select MyFolders > Open Command Window in, choose a folder and a command prompt opens in that location. You can do something similar in Windows already (hold down Shift, right-click a folder and choose "Open command window here"), but using MyFolders means that folder doesn't have to be currently visible.
MyFolders could be improved in various small ways. In particular, we'd like an option to launch an elevated command prompt. The program can save you time if you're regularly copying or moving files between certain folders, though, and if you've nothing similar then it's worth a try.