Amazon brings Music service to Prime customers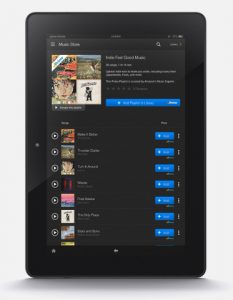 Earlier this year Amazon announced it would be raising the annual fee for its Prime service, with the price jumping from $79 to $99. It's still a reasonable deal, given that customers receive access to Netflix-like streaming movies and TV shows, free two-day shipping on orders and access to the Kindle Lending Library.
To help soften the blow of the increased price, and to perhaps grab more customers, Amazon is announcing that a music service is now part of the Prime deal.
"Introducing Prime Music: over one million songs, hundreds of playlists, unlimited listening, no ads, free with Amazon Prime -- available automatically on Kindle Fire HD/HDX or download the latest Amazon Music app for iOS or Android. With Prime Music, Prime members have unlimited, ad-free access to over a million songs at no additional cost to their membership. Prime Music includes tens of thousands of albums from top artists like Daft Punk, P!nk, Bruno Mars, Blake Shelton, The Lumineers, Bruce Springsteen and Madonna. And we're just getting started -- more music is being added all the time", the retailer says.
This essentially works in the same manner as other services in the market, such as Spotify, Rdio and Google Music All Access. However, given that many Prime customers are likely also paying a monthly fee for one of those, or the many others, this could be a major blow to the competition.
It's hard to justify paying for a different music service while also paying for Prime. Of course, that will depend on how well it works, which remains to be seen.