Samsung Galaxy Tab S -- hands-on and first impressions of the Super AMOLED Android tablets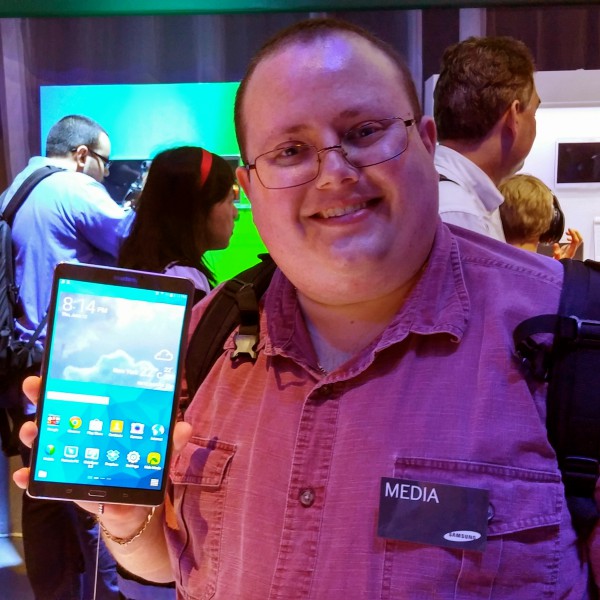 When I received an invitation to attend the Samsung Galaxy press event at the Madison Square Garden Theater in NYC, I was both excited and underwhelmed. I was excited because Samsung is a very important company in technology -- it is a trendsetter, for better or worse. Plus, as a big Knicks fan, I can never pass on a chance to go to MSG -- even the theater. So, why was I underwhelmed? Well unfortunately, there were many rumors and leaked images surrounding the event. The prediction by many was Super AMOLED Android tablets. All surprise was probably lost.
When I got to the theater at Madison Square Garden, there was already a long line of tech journalists. Each one was more stereotypical than the next -- tight pants, plaid shirts, backpacks -- all taking selfies in front of Samsung signs. Most journalists fell into two categories -- using iPhones or using Samsung phones. Many using the latter were clearly trying to impress the company, by also wearing Galaxy Gear watches. Me? I was using an LG G3 -- I took it behind enemy lines.
When we finally were let in, the journalists speed-walked towards the seating in an attempt to get the best -- closer to the stage is coveted. However, before we were blessed with reaching the air-conditioned area where the chairs were, we were forced to stand in a tight space, packed in like sardines, profusely sweating. Every once in a while, a Samsung employee would open the door that separated us from the event, letting a bit of cool air out -- a major tease. Then of course, the room full of sweaty tech journalists began to smell.
Eventually we were let in, and I managed to push my way into a good spot near the stage. From my backpack, I pulled out my trusty Surface Pro 3. Truth be told, I was showing it off a bit, trying to make others jealous. They can keep their Macbook Airs -- the Surface Pro 3 is the ultimate note-taking tablet. During the speeches about the new tablets, I used OneNote with a combination of the type keyboard and stylus. While typing is more accurate with a keyboard, sitting back and relaxing with the stylus is very rewarding.
So, what did Samsung announce? Exactly what was rumored -- two new flagship tablets with the Galaxy Tab S moniker; one with a 10.5 inch screen and the other, 8.4.
However, there were some interesting surprises on the partnership front. Galaxy Tab S owners are to receive special bonuses and discounts from the Play Store. Plus, Samsung is teaming with companies like Marvel and National Geographic to bring exclusive content to its customers. If you like to consume media (who doesn't?), the GalaxyTab S may end up being a great solution.
Below are some notable specs on the tablets:
Samsung Galaxy Tab S
Network -- Wi-Fi Only
Processor -- Exynos 5 Octa (1.9 GHz QuadCore + 1.3 GHz QuadCore)
Display -- 10.5-inch WQXGA (2560x1600) Super AMOLED, 287ppi or 8.4-inch WQXGA (2560x1600) Super AMOLED, 360ppi
OS -- Android 4.4 (KitKat)
Camera -- Rear: 8.0 Megapixel Auto Focus Camera with LED Flash, Front: 2.1 Megapixel
Connectivity -- Dual-Band Wi-Fi 802.11 a/b/g/n/ac MIMO, BT v4.0, USB 2.0
Memory 3GB RAM, 16GB Internal Memory, microSD (Up to 128GB)
Battery -- Li-ion 7,900mAh (10.5) or Li-ion 4,900mAh (8.4)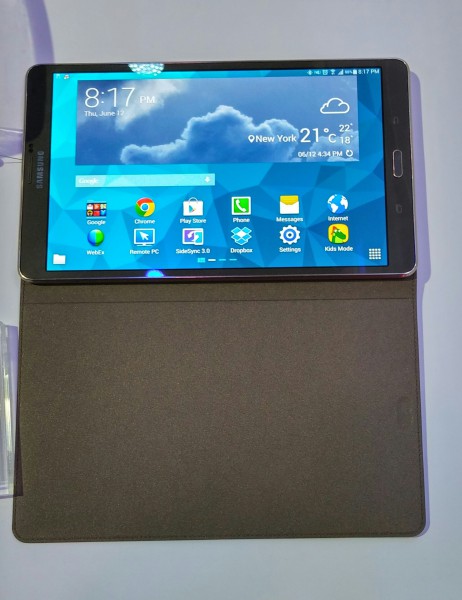 So, the big selling point for the Galaxy Tab S is the Super AMOLED display, which produces colors better than any other tablet. Well, at least according to Samsung. But was it true?
Yes, the Galaxy Tab S delivers jaw-dropping images with vivid colors that must be seen to be believed. Impressive is how well the color black (or the absence of color) is displayed. Never has a tablet display been so beautiful. Samsung even had iPad Airs on hand for comparison, so I had the opportunity to test it.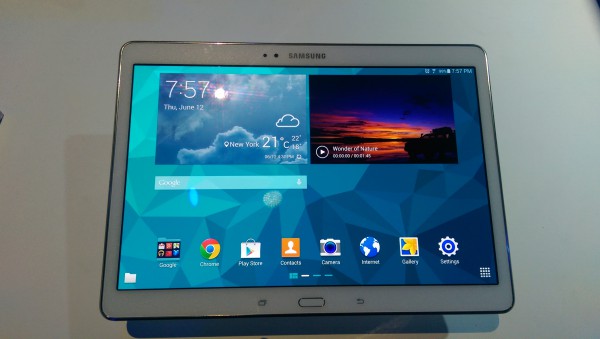 Now, could Samsung have rigged the test and loaded worse quality images on the iPad? Yes, but I don't think that was happening. The company claims the exact same images were loaded onto each. If the claim is true, then the iPad Air is in trouble, as it looks horrible in a side by side. As an owner of Apple's tablet, I thought the screen was beautiful. While it is, it simply cannot compare to the Galaxy Tab S.
It was almost reminiscent of comparing Standard definition and High definition TV. Standard-def looked fine, that is until HDTV showed us what could be. Samsung's tablets do the same. Hell, Samsung claims you can even use it outdoors in the sun and realistically see the screen -- something I cannot wait to test.
Screen aside, both tablets feel great in the hand -- well built, light and thin. The dimpled back is designed to look and feel like the Samsung Galaxy S5 smartphone. Some people do not like this design, but I do -- it is subtle and classy, whereas faux-leather is classless.
My only disappointment is that Samsung is utilizing a microUSB 2.0 port, rather than the 3.0 variant found on the S5 phone. Having the newer version would allow faster file transfers, although with the cloud, that has become less necessary.
Speaking of file transfers, one of the most impressive features for both tablets is the ability to link with a Galaxy S5 Android phone. Not only can they be linked wirelessly for file transfer, but more importantly, for calls too. Yes, if your S5 phone rings in another room, you can answer it with the tablet. Is it a feature for the lazy? Yeah, I suppose you can say that. But, even busy people become too tired to get off of the couch and this can be wonderful from a convenience standpoint. I envision the S5 charging and being tethered to the outlet, so the Galaxy Tab S would give you freedom to talk and walk around the house.
The company has also beaten Apple to the punch, regarding fingerprint security. You see, while the iPhone 5s has a fingerprint reader for unlocking, the iPad does not. Samsung has included this feature on the Galaxy Tab S, effectively doing it before Apple can with the iPad. In my testing, setting up the fingerprint required many tries. However, once it was setup, unlocking with my index finger proved flawless. It makes unlocking with a pin or password seem uncivilized.
Samsung is of course releasing new covers for the tablets, but has taken a very unique approach. Rather than use magnets, the company is connecting it using pressure-connected buttons. Basically, you force the plugs protruding from the cover into the holes on the back of tablet. It makes it difficult to put it on or take it off and that is a good thing. How is difficulty a positive? Well, magnet-connected covers are convenient, but not particularly strong. Here, Samsung's tablet becomes almost fused with the case, so you can dangle the tablet while holding the cover (at your own risk, of course!).
Overall, Samsung has delivered quite possibly the best Android tablets on the market (well, in July anyway). The screens are awe-inspiring and performance is fast and snappy, thanks to the Octacore processor combo and 3GB of RAM. Pricing is very competitive too, at $499 for the 10.5 inch variant and $399 for the 8.4. The Android tablet market has been in a slump lately and Samsung has single-handedly rejuvenated it. If I was underwhelmed before the event, that is surely replaced with pure excitement.
The only question that remains is, which will you buy, the 10.5 or 8.4? You can pre-order now. Tell me in the comments which one you order.