The BEST Start button and menu choices for Windows 8.1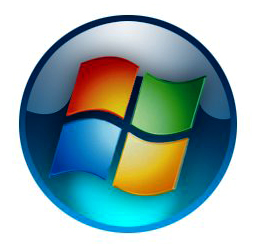 Whatever your reasons for switching to Windows 8.1 -- be it finally upgrading from XP, or the arrival of a new PC at home or work --  you'll find "New Windows" a slightly alien place at first. You can action various changes to make it more like the OS you're used to (boot to desktop -- soon to be the default -- and switching to the All Apps view are great first moves), but if you want a proper Start button and menu, you'll need third-party help. Fortunately there are plenty of great choices available, including some excellent free programs like Classic Shell and IObit StartMenu 8.
Seasoned Windows 8.x users might sneer at you for "going back to the old ways", but there's no question that if you use a keyboard and mouse and have limited interest in the Modern UI, a "real" Start button and menu can do wonders for your productivity. Here are our top 14 recommendations -- free and paid.
Classic Shell (FREE)
Last updated in January to make the program more secure, and give users the ability to control settings through group policies, this fully Windows 8.1 compatible Start button and menu is the one recommended by most users, and rightly so. It offers a choice of three different menu styles -- Classic, Two Columns and Windows 7 -- which can be skinned to suit your tastes.
It is packed with options, including a dedicated shutdown button, the ability to pin programs directly from Explorer and an enhanced Windows Search function. In addition to the classic Start Menu there's a Classic Explorer and Classic IE, although you can choose which elements you want during installation.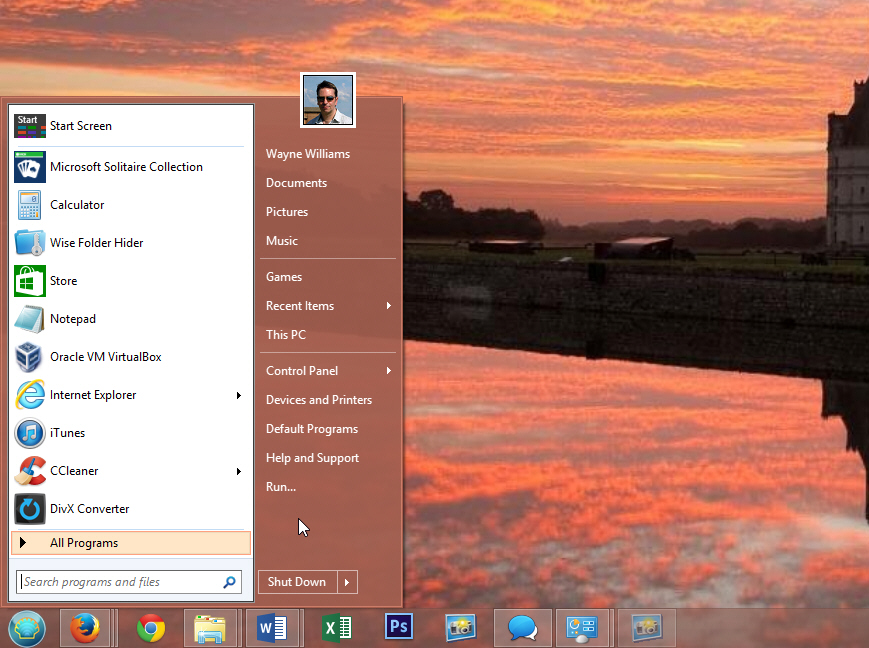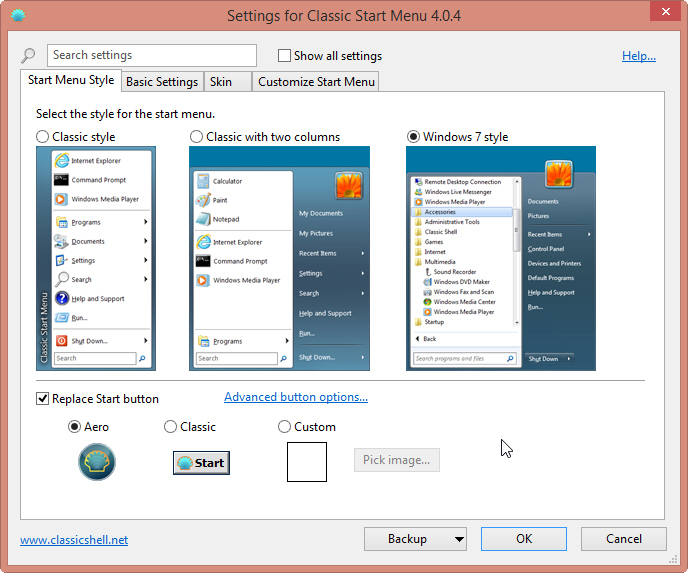 IObit Start Menu 8 (FREE)
This free program offers a choice of Start menus. You can opt for the usual Windows 7 look, or go for the Windows 8 design which places the Start (or Apps) screen inside a window on the desktop. You can also change the style settings to make the latter view seem less odd. It offers a selection of different Start button choices too. As well as the standard Windows 7 and Windows 8.1 button designs, there are some weirder options including a love heart, an acorn, and a coffee cup.
The menu is fully customizable, as is the user interface.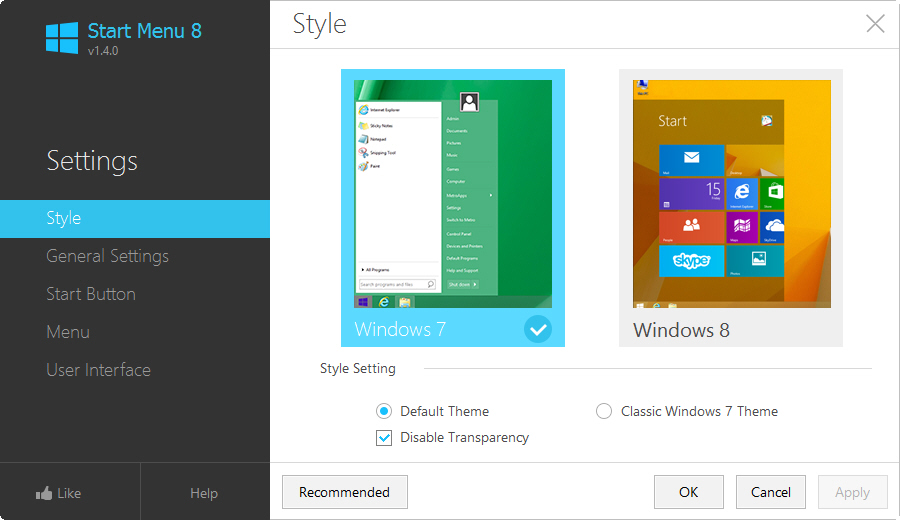 Start8 ($4.99 -- trial available)
Stardock's Start menu isn't free, but it's very affordable at just $4.99 and there's a 30-day trial available so you can try before you buy. You get a Windows 7 style Start menu with Windows 8 enhancements that will let you pin desktop and Modern UI apps, and it supports Jump Lists too. The menu automatically matches the color of the taskbar, and the Start button is fully skinnable. Like IObit's Start Menu 8 it can display the Windows 8.x Start screen in a pop-up window from the desktop.
You can also optionally disable all of the Windows 8 desktop "hot spots".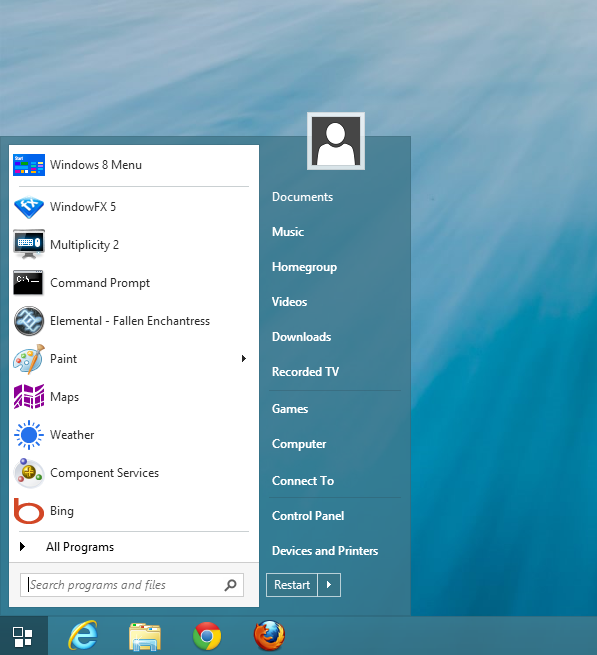 StartIsBack ($2.99 -- trial available)
This is an authentic Windows 7 style Start button and menu. It costs just $2.99 (for use on one PC) and there is a 30-day trial available. When the trial expires it will continue to run but in a limited mode, and with the addition of nagging requests to upgrade. There are separate versions for Windows 8 and 8.1, but your license key will work with either.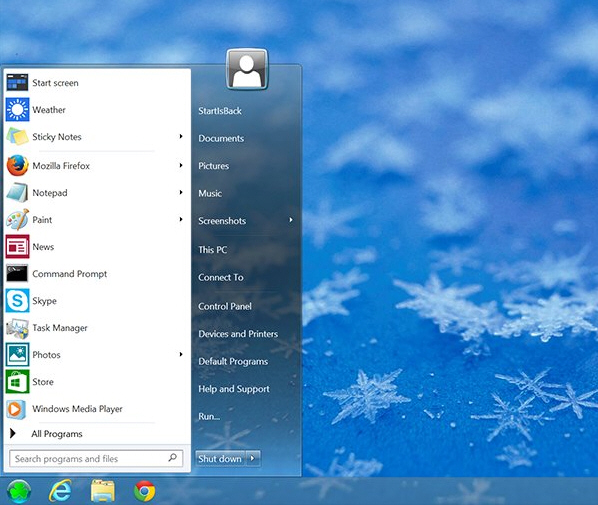 8StartButton (FREE)
Totalidea offers free and paid versions of its Start button. The free edition is (naturally enough), lacking in features compared to the paid edition, but will suffice for most users' needs. 8StartButton doesn't seek to revisit the past by perfectly replicating the Windows 7 Start button and menu, but instead offers a choice of new designs. You can customize the Start button with your own images, and choose what it should display when clicked -- the Start menu, Start screen or a cool, and very different radial menu.
A customizable menu offers tabs that let you quickly switch between Start menu, Start tiles and Recent Documents, and there's a "Search for programs and documents" box. The paid edition costs $17.99 (including tax) but there's an offer code (8BND14) which will currently save you 10 percent when applied.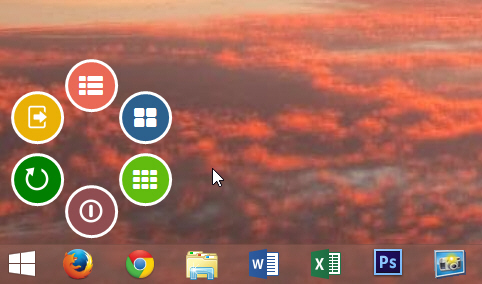 Start Menu Reviver (FREE)
If you don't hate the look of the Modern UI, just the lack of traditional Start menu, this free program might well appeal. Instead of a Windows 7 style menu, it presents you with a tiled touchscreen-friendly version you can use to launch both desktop and Windows Store apps. You can turn websites and even documents into tiles.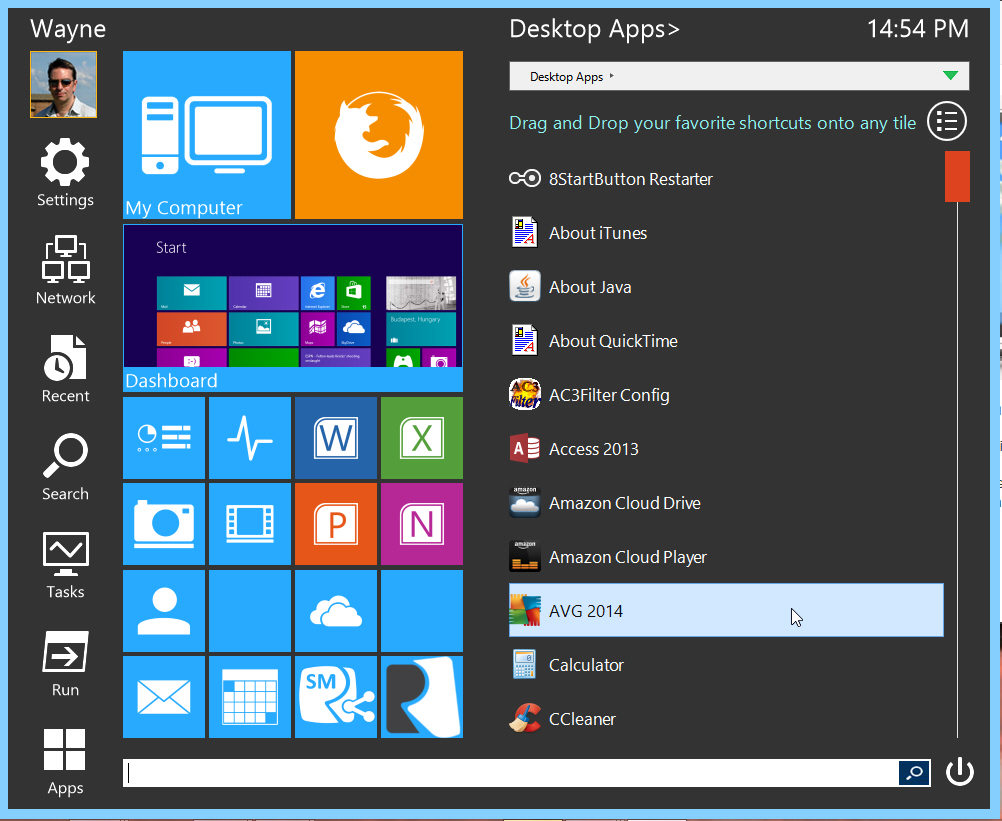 ViStart (FREE)
A free Start menu from the developer who has previously created alternative menus for Windows Vista and Windows 7. It comes with three Start menus and four Start buttons pre installed, and a skin manager and control panel you can use to configure settings.
Start Menu X (FREE)
Fully compatible with Windows 8.1 this Start menu comes in free and professional editions. The latter costs $9.99 and adds extra features, such as one-click launch, and tabs.
StartW8 (FREE)
If you want a straightforward, no frills Start menu, then this should serve your needs perfectly. It's a convincing facsimile of the Windows 7 menu, and fully compatible with Windows 8.1. The program is free, although a donation is appreciated.
Classic Start 8 (FREE)
Adds a traditional Windows 7 style menu to the tiled OS and gives users quick access to the search box, control panel, documents, and all programs.
Pokki for Windows 8 (FREE)
Although this is a Start button and menu, it's not a Windows 7 copy. The program gives you a mobile like app experience with tons of free apps on offer.
Handy Start Menu (FREE)
A rather basic Start menu, but it does the job and lets you launch programs without having to leave the desktop. Applications are automatically sorted by groups.
StartForDesktop (FREE)
Offers a Start menu and "Classic" Start menu, and the ability to pin desktop programs, and launch Modern apps.
Power8 (FREE)
Not the most polished looking of Start menus, it lets you access frequently used applications and pin items, and doesn't require installation, so you can try it out without risk and even use the Modern UI alongside it.